Fitness
Ragi Paratha is High in Protein and Fibre!!
The traditional way to eat any Indian stuffed flatbread is with yogurt and achaar, but stuffing it with delectable paneer may transform it into a wonderfully nutritious snack with numerous nutritional benefits. That's why, for dinner on Saturday, we offer a paneer-stuffed ragi paratha, which is high in nutritional value.
A hearty take on the original Paneer Paratha is a blend of Ragi Paratha packed with paneer. The dough is made with ragi and atta and stuffed with a simple and quick paneer filling that can be eaten for breakfast, lunch, or dinner.
If the notion of it has you salivating, check out this healthy Paneer Stuffed Ragi Paratha recipe to make it at home as the perfect Saturday dinner.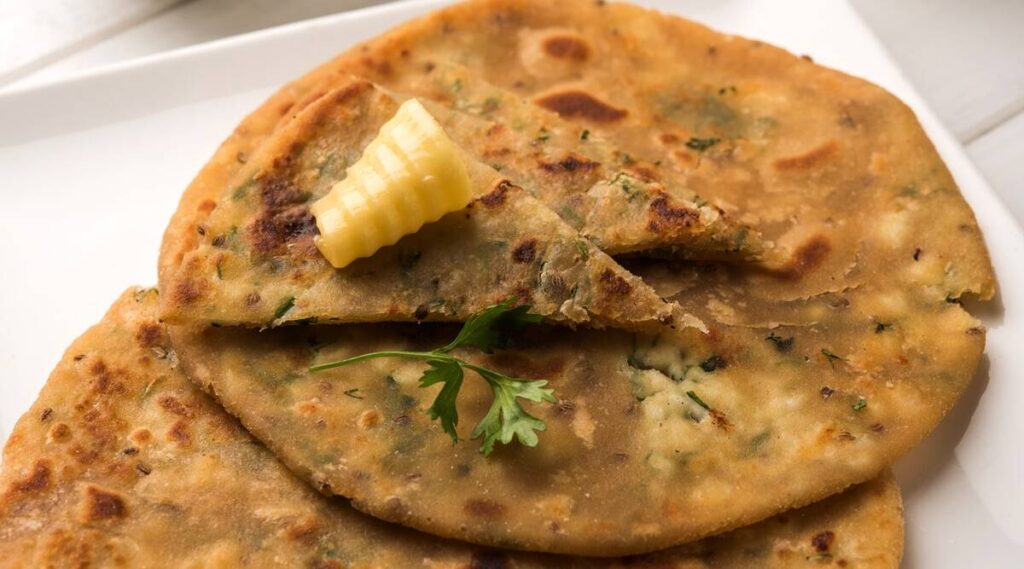 Ingredients for Ragi dough:
30 grams ragi flour (Finger Millet/Nagli)
30 grams whole wheat flour
1 teaspoon olive oil
Salt as per taste
Ingredients for paneer stuffing:
30 grams paneer, grated
1 green chili, finely chopped
few mint leaves (pudina), finely chopped
¼ teaspoon cumin powder (jeera)
Salt as per taste
Ingredients for cooking:
1.5 teaspoon of olive oil
Begin by kneading the dough with a mixture of ragi and wheat flour. Knead the paratha dough for a few minutes, or until it becomes smooth and elastic. After that, knead the paratha dough a little more with a teaspoon of oil to coat it. Cover the ragi paratha dough and set it aside to rest while you prepare the filling.
The Paneer filling for the Ragi Paratha is the next step. Combine the grated paneer, green chilies, mint leaves, salt, and cumin powder in a mixing bowl and stir thoroughly. Make equal pieces of the filling. The filling is then stuffed into the ragi paratha dough, which is the final stage.
Place the ragi paratha dough on a flat surface, dust it with flour, and flatten it with your finger. Roll it out as thin as possible. Place a portion of the paneer filling in the center. Next, gather the paratha dough sides and pull them all together.
Remove any additional dough that has popped out while putting it together. The filled ragi paneer paratha dough should be pressed down. Roll the dough for the filled paneer paratha in flour with care. Roll it out until it reaches the desired thickness, then repeat with the remaining paratha dough and fill.
Heat a skillet over medium heat and lightly butter it. Place the ragi paneer paratha on top. Cook for 30 to 45 seconds on medium-high heat before flipping. Apply a thin layer of oil to the paratha and continue pressing the ragi-paneer-stuffed parathas to cook equally on both sides.
Flip the chicken a few times until both sides are cooked through, browned, and crisped evenly. Once the paratha has finished cooking, transfer it to a plate. Serve immediately.
Nutritional Benefits :
Ragi is a nutritious, gluten-free whole grain. It is a good carbohydrate that is high in calcium, amino acids, and Vitamin D, all of which help to improve vitality, skin tissue, and wrinkle reduction. Ragi can help you manage your diabetes.
The nutritional content of paneer, often known as "Indian cheese" or "cottage cheese," is relatively high. It's high in calcium and protein, and it's healthy for your general health. Paneer is high in healthy fats and milk proteins, and it aids in the development of a strong immune system, which is a primary priority for everyone right now as the COVID-19 pandemic continues.
It supports the correct functioning of the digestive system and, thanks to its high calcium concentration, helps to create stronger bones and teeth. It is not only an important part of weight-loss regimens, but it is also a healthy food for diabetics and lowers cancer risk.