Dear Readers,
Patriotism is a majestic virtue in India. It means a noble sentiment of love, pride, and sacrifice for the sake of one's country and its people. In India, love for one's motherland and patriotism go hand in hand. The people of India, since time immemorial, have expressed their love for their motherland in one form or the other. This edition of Café Social also entails excerpts on the same line of devotion for our country.
Café Social in its section "Gatha Paramveer Ki" brings the tale of a brave-heart, Captain Yogendra Singh Yadav who paid the supreme sacrifice while protecting the motherland during the Kargil War. As he took the bullet on his chest, Yogendra Singh said "I don't want any other award than my country's respect and this sacrifice of mine is nothing compared to what our forces are doing at the border.
This edition aims to celebrate the glory of officers across the country like IPS Lal Umed Singh who showed exemplary courage and professionalism when he demonstrated a steely resolve the to take on the job at the cost of his life. He killed four Naxalites and has worked for peace and order in areas like Raigad, Korba, Raipur, Durg.
As it is rightly said by Mahatma Gandhi, "Real patriotism lies in contributing to the nation's development." Mr. Sonu Sood, a crusader in the harrowing times of the pandemic, helped lakhs of stranded Indian migrant workers to reach their homes and also undertook various initiatives to support students and the underprivileged section of society. In this issue of Café Social, we salute the efforts of the Real Life Hero for his selfless service to the nation.
The efforts of the patriots are emphasized in this edition. We have made an effort to convey our thoughts and opinions about this issue through this edition, and we would appreciate your thoughtful comments on the issue. Happy reading!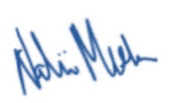 Adv. Nalini Mishra
Editor & Director