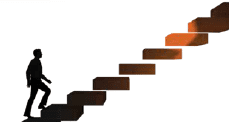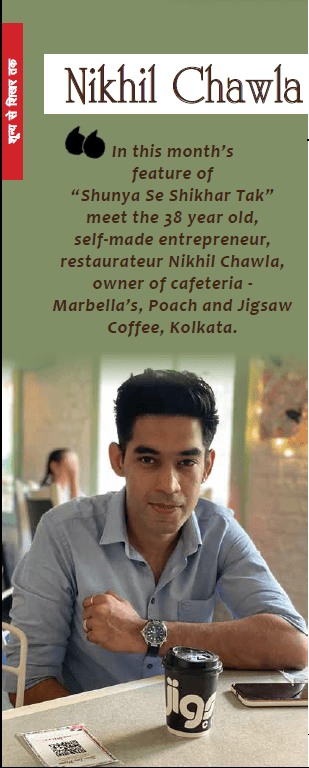 Nikhil hails from a progressive Punjabi business family that specializes in footwear for the last two generations, who chose a different path of business. After completing his education from St. James School Kolkata, Bhowanipore College Kolkata and his Master's in Business Administration in Finance from Glasgow, Nikhil joined his family business for two years, but he realized he had a distinct calling in the food and services industry.
He was always very passionate about cooking and curious as to how the back end of a cafeteria or restaurant operated and this drove him to take up his first franchise in 2009, a very popular brand pan India – "Mocha". It was a rage then and he ran it successfully for nine years until he started dreaming of his own chain of cafeterias someday.
Nikhil had the first mover advantage, as Mocha was the very first famous franchise entrant into the city and hence it was a very smart move that brought in customers just by word of mouth.

But Nikhil also had his own set of challenges as he was on his own, from raising funds from friends, family and banks to having no formal training in culinary arts or even a hotel management degree.

Grasping the back end, running of the kitchen – costings, purchases, dealing with perishable products, dealing with high attrition-rate of staff and marketing the brand were some major problems he faced when he began. He would have to spend a lot of time on the store doing inventory and then learning how a kitchen functions with multiple departments – bakery, hot department, cold storage to name a few.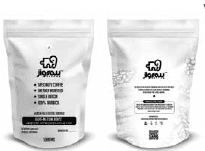 The restaurant was a 150 seater and hugely popular from day one and hence the back end supply chain had to be seamless. Nikhil worked tirelessly to get a grasp and put systems in place.
Restauranting is a public job and it helped him meet new people i.e. new customers everyday and serving them would be equally fun yet challenging. The success of the restaurant gave him patrons and accolades. For five years straight the cafeteria won the best cafe / restaurant award.

He made new friends and became popular at all quarters, including being invited to many events as speaker or to judge events at the city's college fests. Additionally, Nikhil's school and college facilitated himand his popularity rose amidst peers. His success with Mocha gave him enough credibility in the market and thus he was able to raise funds for his next few ventures.

In the years 2010-2018 Nikhil opened his own conceptualized cafétarias- Salsa Grill (2013), Salsa Cafe (2014) and Eggytarrian (2016), the experience of which finally led him to the much talked of Marbella's (Hindustan Park) a quaint pretty looking cafeteria with Spain-like 'feels' in the middle of nature. He then expanded into additional outlets Marbella's (Elgin road) and a relatively higher end experience at Poach (Vivekananda Park) and finally ventured into his own coffee brew – Jigsaw puzzle within a period of three years.
We asked Nikhil what his secret to success was and he said "the secret is simple – there are no short cuts to success. The front end of the business looks all glam and giving. But the back end functionality is the key, the correct purchase – to goods reaching on time. Keeping our work force happy is equally important as they are the true representation of the brand.I would work back end to ensure all this is well taken care of. Once these basic systems are sorted, expansion is inevitable and easy.

"On asking what his future dreams were for his business, he quite simply said, he hopes to take his cafétarias international someday. Since Restauranting is a very dynamic industry and one must keep re-inventing food and concepts frequently to make the experience exciting for patrons, he hopes to keep the standards high enough to open cafétarias around the Middle East and Europe as he has lived there and understands the culture there very well.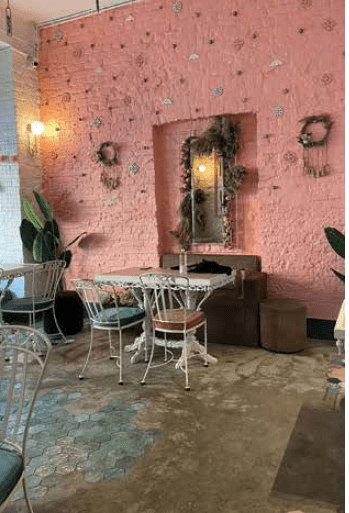 What is your message to the youth who are dreaming of starting their own business?
"Follow your passion and pursue your calling. Failure or success is just a by-product of your effort. Luck is also important to be on your side. It's important to give time to family and to do filial duties. Times will be favourable and tough but never do anything immoral or lose heart. Perseverance and patience are two traits once must have. Business can only succeed if you keep your work force happy and motivated hence their well-being must be priority."
Nikhil also believes in giving back to society and therefore from the very beginning he has had an open mind towards contributing and giving back to the society. He says "doing our bit surely comes back manifolds." Nikhil said, his and his café family, not only believe in giving extra cooked food to the needy but are also a part of a daily meal initiative where they send food to a local shanty providing meals (one time a day) to sixty people. They are also a part of the NRAI initiative of "Re-Serve" where they provide left over food, packed and delivered. And last but not the least, they have a tie – up with the "Robin Hood Army" who pick up extra food that has been cooked through the day to provide food for the needy.
With a heart as magnanimous and giving as Nikhil's and the indomitable spirit he has, we are sure he will soon become the connoisseur of Restaurants even in the country and internationally. To every young person who dreams of having their own business, one can definitely learn a lot from business stalwarts like Nikhil.
Where does you see today vis-à-vis your plans?
"I feel God has been kind and I
have tasted success early when I
began and then failure when my
smaller models didn't work as per
plan, but I've learnt at every step
and gained more experience. It's
so important to see success and
failure as it keeps one grounded
and yet motivated. It's important
to have goals and targets and each
day we must get an inch closer
to achieving them. I measure my
goals daily."
linkedin.com/in/nikhil-chawla-75562616
https://fb.watch/j8e5QcXa4H/