"Never Give Up, Never Back Down"
 A true story of hardship,
determination, and a blithesome approach to life
-Shridhar Rane
In continuation of our series on bringing real stories of courage, hope, and inspiration, we bring the story of 65 years old Rane – a Security guard and employee of MRF (Mukund Rajiv Security Force) Security for the past 12 years.
Born in the Siddudurg district of Taluka – Kankavali, Maharashtra, Rane moved to Bombay (as it was called then) after completing his SSC in 1977 in search of work. Initially, being not so skilled, he managed to do some odd some jobs in a couple of companies until they were shut.
Thereafter, he joined a shop at the Crawford Market where he was entrusted with menial tasks starting with checking garments, packaging, arranging clothes, etc. After working for few months, he switched to the ready-made line where he worked for more than 5 years checking the stitching, stock-taking of clothes, taking care of wholesale deliveries in and out of stores, and other day-to-day tasks as assigned. However, as the cloth mills were shutting down, the industry was badly hit which meant lesser scope of job switch and earnings for workers/employees like Rane.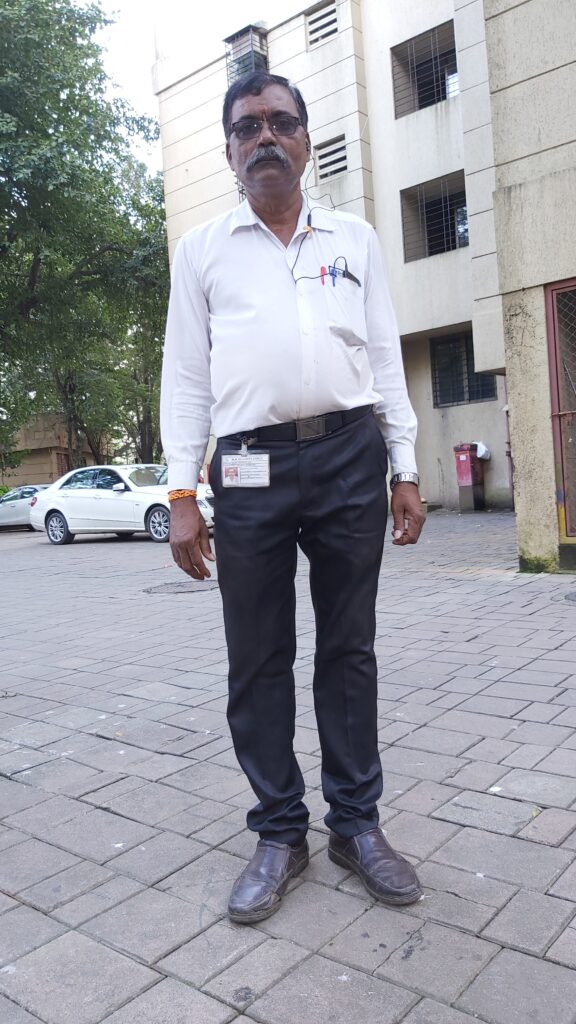 Finally, in 1994, he got an opening in a private security company – TOP Security. He was employed until 2002 before he went to attend some personal exigency to his village and could not make it back within time (as per approved leaves).
It was a tough period with no Job, however, Rane managed with some errand jobs until 2009, where he secured a job at the MRF Security Company. He is currently employed with the company for the past 12 years.
Being in private security he has been posted in various places and currently in a society where besides being watchful, he works beyond his cope to ensure the well-being of the society including hygiene and cleanliness.
Covid-19 has affected us all and more so to people like Rane who had no choice but to work despite the concerns and health risks presented by the pandemic.
Given the kind of person Rane is, he never blinked his eye to reach out to people for extending his support and helping people out of his way – be it senior citizens, children, other residents, and other stakeholders of the society.
Right from ensuring that the Safety Action Plans (as put forth by RWAs) are being implemented, adhering to the government guidelines (as suggested from time to time) to helping residents with the delivery of their groceries, medicines, etc at their doorstep among other things.
At his age, where people were falling prey and succumbing to the virus, he was working fearlessly to ensure the safety of the residents and was involved in all health-related activities including sanitization, fumigation, health camps for RTPCRs, and at later stages for vaccinations.
His efforts were acknowledged by the society and were finally felicitated by the residents on the 26th of January 2021, honouring him with a Certificate of Appreciation.
The team of café social while interacting with him learned that his elder son (age 24 years) succumbed to bone cancer, while his second son was hospitalized for 4 months due to a kidney malfunctioning.
Thankfully he has been discharged recently, however, has no choice but to look for a job in order to support the family. His wife has been a helping hand throughout his life contributing through her odd household jobs besides managing the chores as a mother. However, with her age catching up it is becoming difficult for her to find suitable jobs.
Speaking about the day-to-day challenges, Rane elaborated that his job as a security guard at the Ekta MeadowsSociety requires him to do a 12-hour shift and be vigilant while ensuring the safety of the 7 different wings of the society.
The work accordingly to him is hectic given that they can't take any holidays (only manage to take out time through mutual arrangements with other guards by changing their shifts) but it is satisfying too as he feels responsible for the safety of the residents. Having worked in this society for long, he feels that this is his second home as he proudly says, "There is no chance of theft in our society because of our strict vigilance, we take turns to check on the outside parking, passage lights, and perimeters of the society to ensure nothing suspicious is happening".
With no mediclaim and a meager salary of Rs. 13000, it requires a different level of commitment to be able to perform so consistently even at the age of 65.
He stays at Tata Power Residential Colony (Devipada) which is within walking distance from his workplace. Talking about his future plans, he elaborated that he doesn't have much of a choice now unless his son gets a good job. Probably, then he can think of taking some time off for himself and see what else can he do.
People like Rane are a rarity. At the age of 65 when most people think of taking life easy, Rane is all set to take challenges every day head-on, physically and mentally. His strong will and determination has helped him overcome the impediments of life.
His mirthful attitude towards life and his work is highly infectious. His story is of hope, inspiration, and true courage reminding us of the Quote – "Never Give Up, Never Back Down".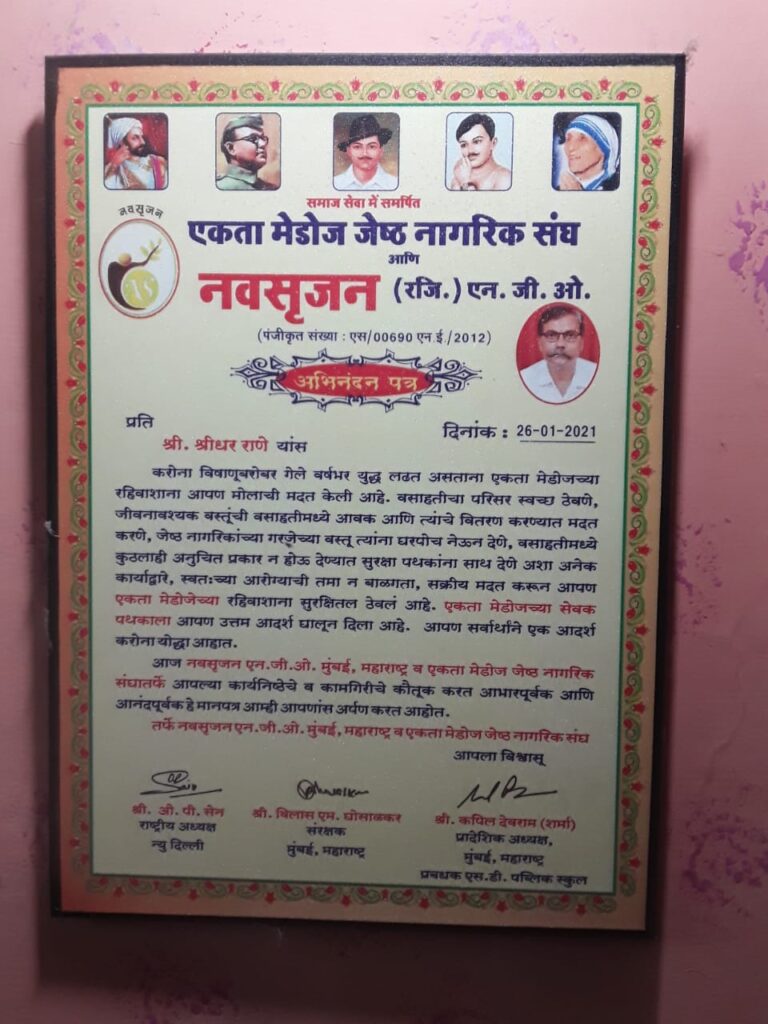 You have been of great help to the inhabitants of Ekta Meadows during the pandemic. You have helped to keep the residents of ekta meadows safe by keeping the colony's premises clean, assisting in the distribution of essentials in the colony, delivering the necessary items of senior citizens to their homes, and assisting the security forces to prevent any untoward incidents in the colony. You are an ideal corona warrior by all means.
Today, on behalf of Navsrijan N. G. O. Mumbai, Maharashtra and Ekta Meadows Senior Citizens Team, we appreciate your hard work and dedication.