General
GRAND CELEBRATION: NORTH BOMBAY SARBOJANIN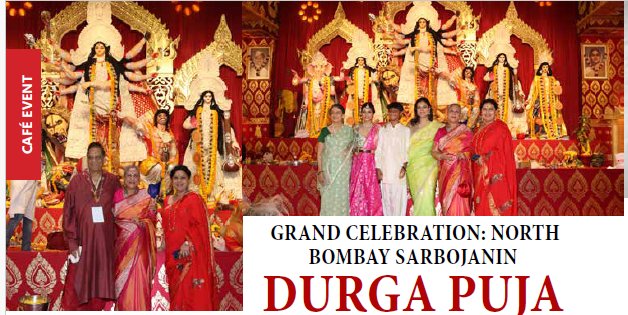 "She the refuge, peaceful and merciful undoubtedly, She pervades over all, is universal form certainly, Her with all his heart and soul, divine grace showering upon them with spiritual ecstasy untold." ~                                                                                                                                                     Munindra Misra
Durga Puja is one of the religious festivals of India and is celebrated throughout the country with great zeal and fervour. As per Hindu mythology, Goddess Durga, who is also referred to as an embodiment of Shakti or a symbol of feminine strength. An event was organized on 22nd of October, 2023, at 11:15 AM, 'PICTURE N KRAFT'. This exclusive invitation came from the esteemed 'Debu Mukerji and Members of North Bombay Sarbojanin Durga Puja', It was the grandest, most historical, and celebrity-studded Durga Puja celebration in Mumbai – "North Bombay Sarbojanin Durga Puja."

Their distinguished Guests Galore included various guests. The event was graced by the presence of luminaries such as Jaya Bachchan, Tanuja, Rani Mukerji, Kajol, Tanishaa Mukerji, Bipasha Basu, Shekhar Khanijo, Poonam Pandey, and many more. The festivities were conducted, and the idol of Goddess Durgawas dressed in splendid attire and jewellery, illustrating her beauty and strength.

The people of Mumbai assembled in large numbers at the Mandal to witness the divine ambiance created during the festival. Various cultural and religious programmes were organised, including processions of deities, dance performances, and musical events. The magnificent idols of Goddess Durga, people danced to the beats of the dhaki (drum), and evenings surrounded by the soulful tunes of Goddess Durga aarti were unforgettable features of every Durga Puja celebration conducted.

Moreover, with a portion of delicious bhog, artistic views of the pandal, colourful fireworks, and mouth-watering food delights at various food corners held at every nook and cranny, everyone drowns in the joyous Durga Puja celebration! The vibrant festival brings together people of all ages and religions, and the experience of a Durga Puja celebration conducted by this Mandal was truly unique and unforgettable. The captivating experience of the Durga Puja celebration was filled with joy and enthusiasm.