Cover Story
DRIVING MAHARASHTRA'S RENAISSANCE: THE VISIONARY LEADERSHIP OF CHIEF MINISTER EKNATH SHINDE
IGNITES AN ERA OF TRANSFORMATION AND EMPOWERMENT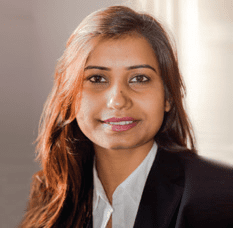 Maharashtra, one of India's most populous and dynamic states, is undergoing a remarkable transformation under the leadership of Chief Minister Eknath Shinde. With a strong focus on building a sustainable and inclusive future, the government is taking significant steps in various sectors, laying a solid foundation for progress and development.
"Bold actions and unwavering determination propel us towards a Maharashtra that thrives on progress, equality, and sustainable development. Together, let us create a future that surpasses all expectations and paves the way for a brighter tomorrow."– CHIEF MINISTER EKNATH SHINDE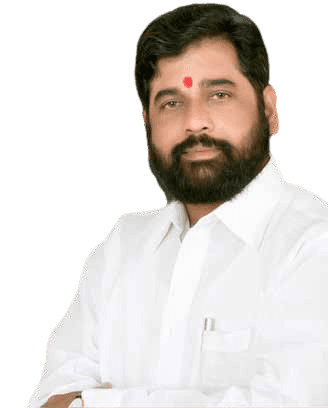 Building a Strong Foundation:
CM Eknath Shinde's Commitment to Eco-friendly Development and Dharavi Slum Rehabilitation Scheme.
Eknath Shinde, the present chief minister of Maharashtra, has pledged to promote eco-friendly development in accordance with conservation principles. As part of his efforts to combat carbon emissions and pollution, the CM has showcased the Dharavi Slum Rehabilitation Scheme as a model. This initiative aims to offer free 300 square feet houses to a significant number of slum dwellers residing in the world's largest slum. By doing so, it is expected to contribute to the reduction of pollution caused by Dharavi, including sewage-related pollution.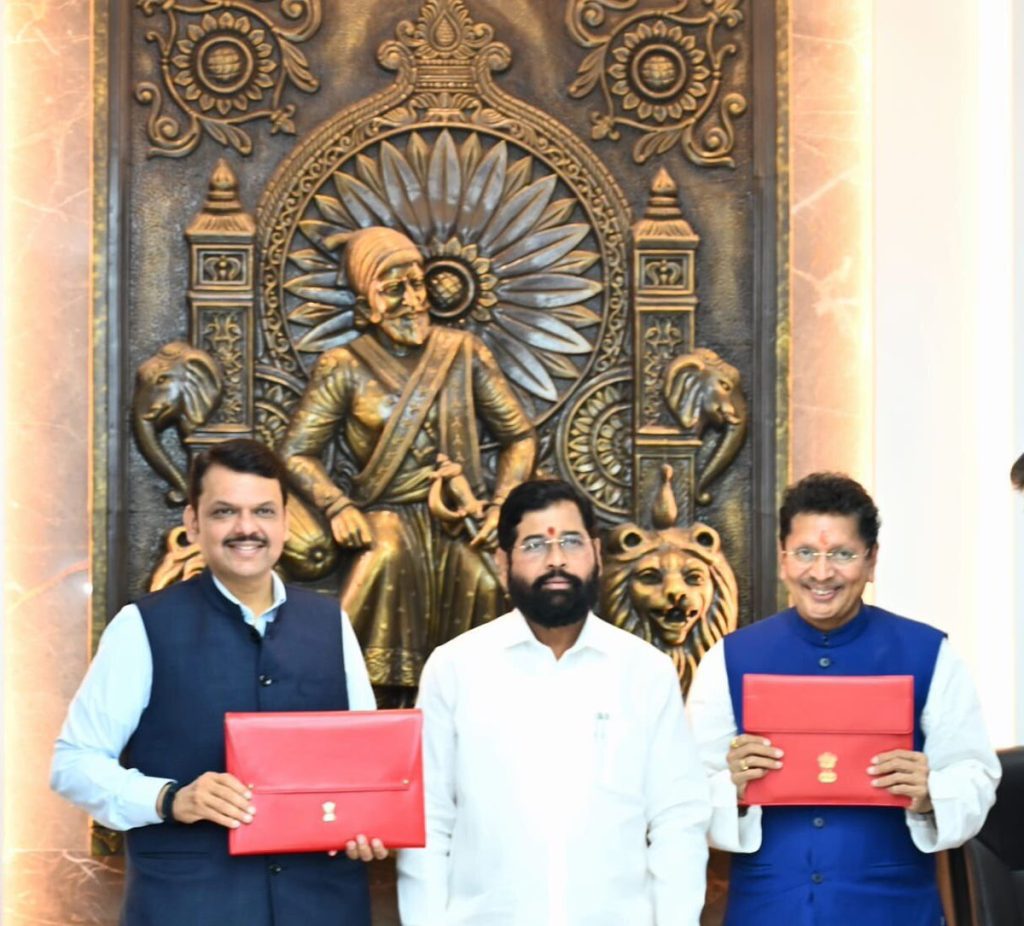 Empowering Agriculture and Rural Development:
Government Support for Farmers, Women, Youth, and Industrial Sectors.
Moreover, highlighting various endeavors carried out by the Maharashtra government to support farmers, women, and youth, as well as the industrial and MSME sectors, the appointment of Mr. Eknath Shinde has led to the assurance of recruiting over 150,000 young individuals from the state into government positions. Additionally, the government is dedicated to achieving the vision of a developed India, known as Vikasit Bharat, by 2047. To make this a reality, the Maharashtra Industrial Development Corporation (MIDC) has embraced a Plug-and-play approach for manufacturing. This approach enables and assists investors and aspiring entrepreneurs in swiftly commencing their operations with minimal capital investment. The implementation of this model is currently being piloted in Chhatrapati, Sambhaji Nagar, Nagpur, and Pune, addressing the challenges faced by the manufacturing industries.
Under the visionary leadership of Chief Minister Eknath Shinde, Maharashtra has taken significant steps to empower the agricultural sector and provide financial support to farmers. Here are the additional points to be included in the main content: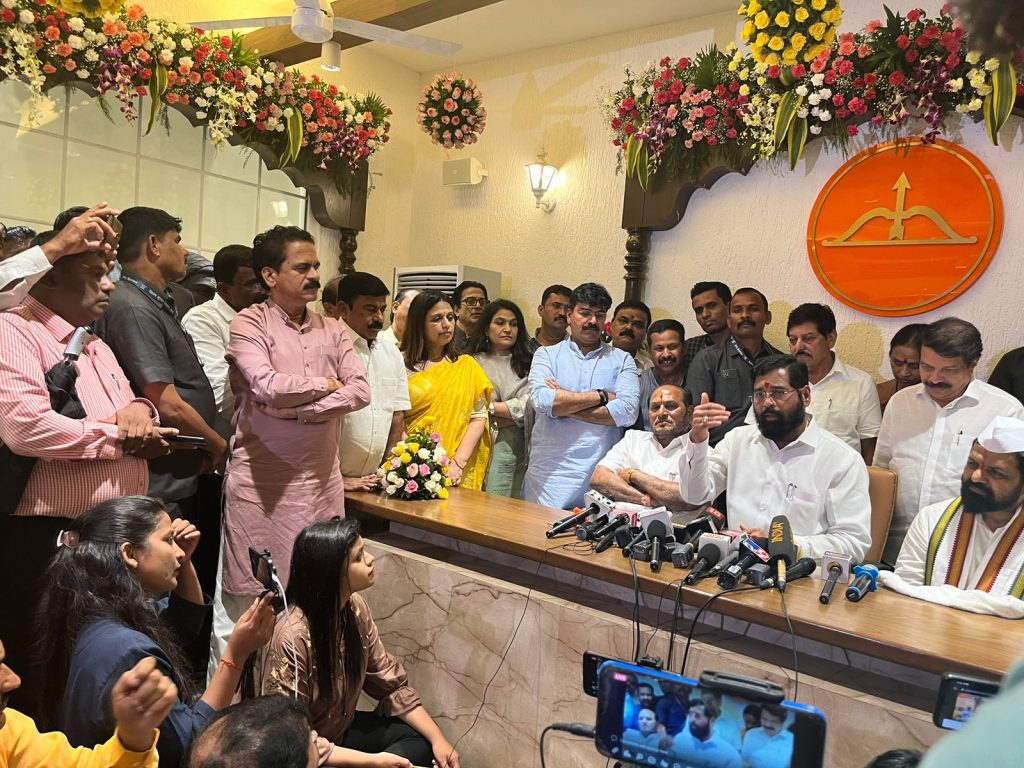 Earlier, in March 2023, Chief Minister Eknath Shinde introduced two important initiatives in the BJP's first budget. The first initiative is the Mahakrishi Yojana, which focuses on the sustainable development of the agricultural sector. This scheme aims to substantially increase the income of farmers, and a provision of Rs. 3000 crores has been allocated for this scheme over the next 5 years.
The second initiative is the Namo Shetkari Mahasanman Nidhi, a scheme designed to provide financial benefits to farmers. In a recent cabinet meeting held on May 30th in Mumbai, Chief Minister Eknath Shinde addressed the issues faced by farmers in Maharashtra. As a result of the discussion, the government has assured that Rs. 12,000 will be deposited directly into the bank accounts of farmers. This scheme is in line with the central government's decision to provide Rs. 6000 annually to farmers, and the state government has taken the same decision, totaling Rs. 12,000 to be deposited annually as part of the Namo Shetkari Maha Sanman Nidhi Yojana.
Revitalizing Education,Infrastructure and Healthcare:
Maharashtra Maritime Development Policy and Water Transport Improvement.
Furthermore, our respected chief minister has also promised the announcement and unveiling of a policy which will "improve water transport and passenger mobility in Mumbai and the Konkan region of Maharashtra," and this policy will be known as the Maharashtra Maritime Development Policy of 2023.
Championing Social Welfare: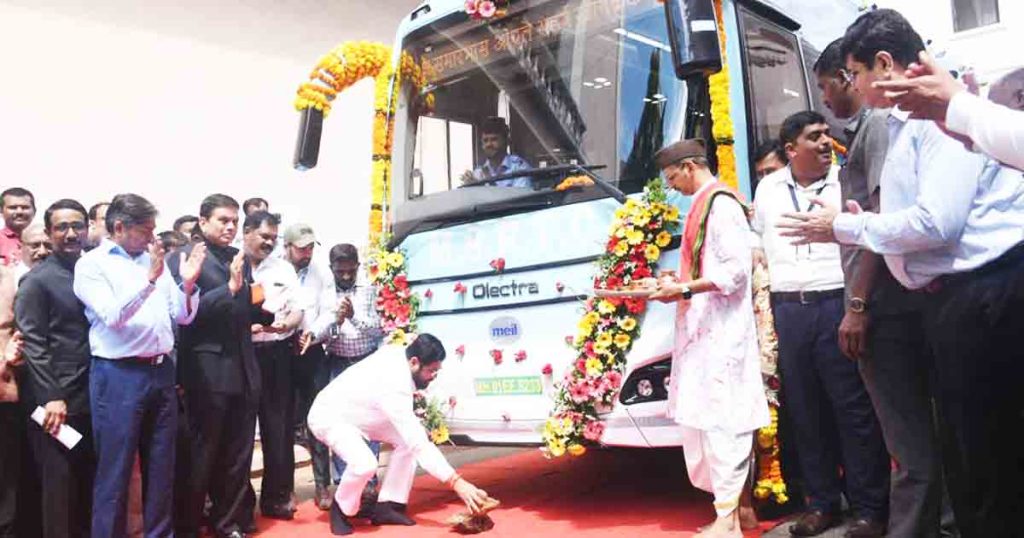 Clean and Beautiful Bus Station Campaign, Electric Shivneri Buses, and Aarey Accomplishment
Apart from initiating the "Clean and Beautiful Bus Station" campaign, which was dedicated to Babasaheb Thackeray, the Chief Minister further introduced electric Shivneri buses on May 1st, 2023, for transportation between Mumbai and Pune. The Chief Minister firmly believes that the state transport corporation is the backbone of Maharashtra and, in today's competitive landscape, it should deliver services that are both high in quality and customer-centric. Additionally, the ticket prices for Shivneri buses traveling between Mumbai and Pune have been specifically reduced for women.
The long-standing conflict over the Metro car shed in Mumbai's Aarey Colony, known as Mumbai's 'green lung,' has finally been resolved. The car shed is being shifted outside the Aarey forests and is now being built on government lands in Kanjurmarg, central Mumbai. This decision was made following a battle fought by environmental activists and local residents to preserve the greenery and ecological balance of the Aarey Colony.
Under the Leadership of Chief Minister Eknath Shinde: Vision for a Developed India and Infrastructure Projects
On May 30th, 2023, Mr. Eknath Shinde also commissioned the upgraded Wonders Park in Nerul, Navi Mumbai, emphasizing that it is not just an excellent garden to be enjoyed by kids but should also be enjoyed by the elders as everyone needs quality recreation. It also adds to the tree cover. Additionally, he inaugurated two tertiary plants at Kopar Khairne and Airoli, a multipurpose building in Vashi, and a central library in Sanpada, all projects undertaken by the Navi Mumbai Municipal Corporation.
Since the appointment of the new chief minister, Mr. Eknath Shinde, there has been the inauguration of the Nagpur-Mumbai Samruddhi Expressway, Nariman Point to Virar and Sewri to Nhava Shewa coastal roads, Nagpur-Goa greenfield expressway, as well as the ongoing Mumbai-Goa Highway project. These projects aim to enhance connectivity, transportation, and economic growth in the state.
Transforming Maharashtra: Eknath Shinde's Vision for Progress and Inclusive Development
The Maharashtra government, under the visionary leadership of Chief Minister Eknath Shinde, is driving a comprehensive agenda for progress and inclusive development. Through sustainable initiatives, support for key sectors, and prioritizing social welfare, the state is poised to become a model for a transformed India. With a firm commitment to the welfare of its citizens and the preservation of the environment, Maharashtra is embracing a brighter future for all.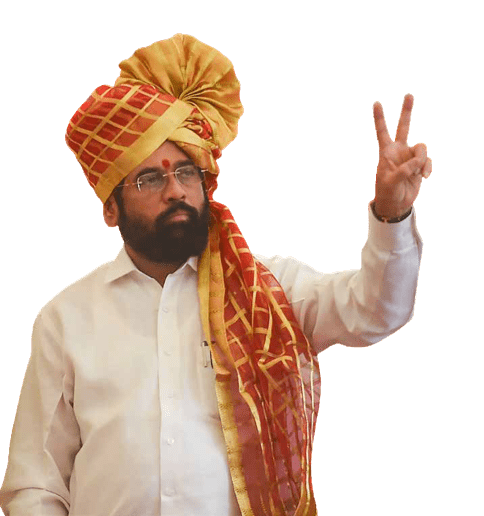 Q. Let's start with your vision for Maharashtra. What are your main priorities as the Chief Minister?
My main priorities as the Chief Minister of Maharashtra are focused on progress, development, and inclusive governance. I believe in creating a robust infrastructure, empowering agriculture and rural development, revitalizing education and healthcare, and championing social welfare. These priorities form the foundation for a prosperous and equitable Maharashtra.
Q. Infrastructure development is crucial for the growth of any state. What initiatives have you taken to strengthen the infrastructure of Maharashtra?
Eknath Shinde: Infrastructure development is indeed a key focus area for us. We have initiated several projects to enhance connectivity, transportation, and urban development. These include the construction and expansion of highways, metro lines, bridges, and other transportation networks. Our aim is to improve connectivity within the state and facilitate efficient movement of people and goods.
Q. Agriculture plays a significant role in Maharashtra's economy. How are you supporting farmers and promoting rural development?
Agriculture and rural development are of utmost importance to me. We have introduced various policies and initiatives to provide farmers with better access to resources, financial support, and technological advancements. We are investing in irrigation projects, promoting sustainable farming practices, and expanding rural infrastructure. Our goal is to ensure the prosperity and well-being of Maharashtra's farming community.
Q. Education and healthcare are vital sectors that impact the well-being of Maharashtra's residents. What steps have you taken to revitalize these sectors?
Education and healthcare are indeed crucial for the state's progress. We have taken several steps to revitalize these sectors. This includes the establishment of new educational institutions, the introduction of innovative teaching methodologies, and the upgrading of healthcare facilities. We are committed to providing quality education and accessible healthcare to all residents of Maharashtra.
Q. Social welfare is another area of focus for your administration. How are you promoting inclusivity and empowerment?
Inclusivity and empowerment are at the core of our governance approach. We have introduced progressive policies aimed at uplifting marginalized communities, ensuring gender equality, and providing social security measures. We have implemented skill development programs, women's empowerment schemes, and social welfare initiatives for the disadvantaged. Our aim is to create a more equitable and just society for all residents of Maharashtra.