Swara Bhagwat born on October 15, 2014, a 6-year-old girl from Gokhali village near Baramati in Maharashtra, was named Wonder Girl on November 4, 2020, at the age of 6, she set a new record by riding 143 kilometres in nearly 12 hours. She is the youngest female cyclist to complete this incredible feat. To commemorate her memorable voyage, World Records India honoured her with a certificate. She began her journey in Gokhali, Phaltan taluka, Satara District, Maharashtra, and cycled to Baramati, Morgaon, Jejuri, Walhe, Lonand, Taradgaon, Phaltan, and Rajale. This wonderful accomplishment has filled the residents of Baramati with pride.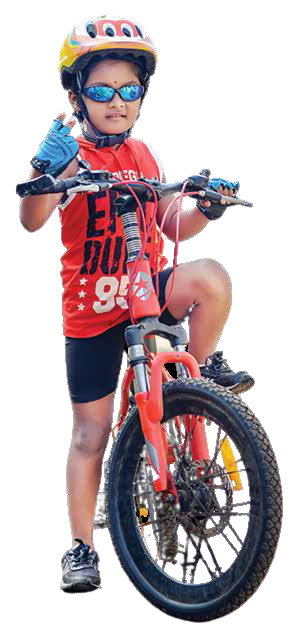 Swara has been referred by 4 MP's of Maharashtra for "National Bal Shourya Puraskaar" they are Manoj Kotak (Ghatkopar), Srirang Barne(Maval), Ranjitsingh Nimbalkar (Mhada) and Om Raje Nimbalkar (Osmanabad), District Collector of Satara Shri Ruchesh Jaywanshi got astonished when he heard about her and immediately sent her nomination for National Bal Shourya Puraskaar.

Furthermore, she reached another life milestone on February 18, 2022, when she was just over 7 years old. She climbed Kalsubai Shikar Mountain, Maharashtra's highest point, in 1 hour and 57 minutes. Swara's voyage began at 6:01 p.m. and ended at 7:57 p.m. She was the youngest female to do so. Swara Yogesh Bhagwat, a seven-year-old girl, engages in a variety of physical activities. This small girl sparked a social media discussion by cycling 143 kilometres in ten hours. She deserves praise for accomplishing this a day after trekking Harihar Gad in Trimbakeshwar, Nashik District.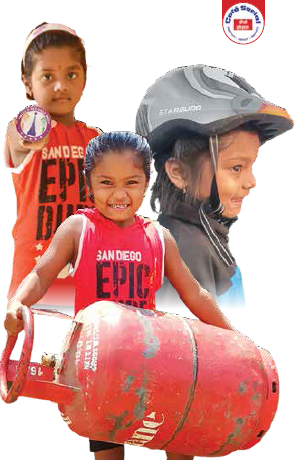 She is the first girl to complete the Kalsubai peak in the quickest amount of time. Swara's 7-year-old record has been praised by Maharashtra's Food and Supplies Minister Chhagan Bhujbal. Swara was honoured by him. The elevation of Kalsubai Peak is 1000 46 m. This summit is Maharashtra's highest point. Yogesh Bhagwat, his father, and Aslam Sheikh were both involved in his campaign. In his sixth year, he set a record for cycling 143 km in 10 hours, and the record for 50 different types of vocal jumps and 100 pushups in one minute is in the India Book of Records.

Swara's success has added to her already impressive record. Swara Yogesh Bhagwat excels not just at cycling but also at swimming, yoga, pushups, and jumping rope. she strives to be fit in all aspects of her life, not just yoga and fitness. When she wakes up at 5 a.m., she has nuts and milk before going to the gym. Following the workout, they are given eggs. Aside from that, her diet includes raw grains and fish.
Swara was a class I student at a district school when she began yoga to keep herself healthy during the lockdown. As we can see now, she is the youngest female to climb Kalsubai Shikar Mountain, how the practice began in lockdown to keep herself healthy, and how she set a record in India's book of records. Swara's family wants her to compete in the Olympics, for which she is already training in order to become a strong national player.