News
Too many potholes on Bengaluru roads disturbing the public.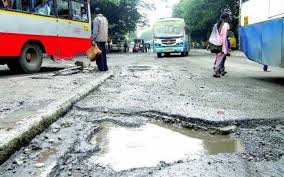 BENGALURU: Motorists commuting on the busy Bengaluru-Mysuru Road have begun to take yoga lessons. Reason: To beat the back pain caused by potholes! The nearly 500-metre stretch from NICE junction to Kengeri Metro station, which is dotted with more than 40 potholes resembling the surface of the moon, has turned out to be anightmare for road users.
Venkat, a marketing executive who travels on the stretch daily, told TOI: "I've been using this stretch for two years, but in the last six months, the situation has worsened. The problem is so acute that I have developed lower back pain and have begun taking yoga lessons. "
The road's pathetic condition, which was tweeted by a photojournalist, exposed the apathy of the civic officials in Bengaluru. While some netizens sarcastically suggested renaming the stretch 'Crookedest Road', a few said Bengalureans were ahead of Elon Musk in experiencing Mars on Earth. "Even if officials fix the potholes following media attention, they open up in less than a fortnight. Things get worse when it pours as we have to wade through the flooded street," said Bopanna, a business executive and commuter from Rajarajeshwarinagar. A BBMP official confirmed that BMRCL was yet to hand over the road to the civic body.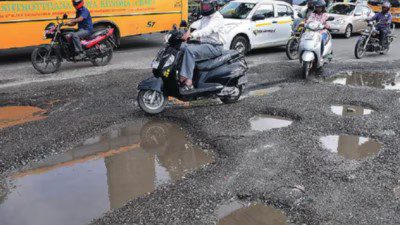 "Shocking n shameful," tweeted Biocon chairperson Kiran Mazumdar-Shah. Another road user, Jayesh Thakkar, said: "The stretch is accidentprone as bikers come close to big vehicles while navigating potholes. "
BMRCL officials blamed the mess on a blocked drain at the junction, which they say is affecting the quality of the road regardless of repair work. "All the rainwater from NICE junction, Shell Petrol Bunk side accumulates on this stretch as there is no continuity in the drain. We have been working on remodelling the drain, which has just been completed and awaiting the crucial link with another side of the road. We need to cut open the central part to provide that link. Nevertheless, we have been scraping the road and levelling the surface with the same material to ensure smooth flow of traffic. But it becomes messy with rain as there is no drainage," explained a asenior engineer from BMRCL.
BMRCL engineers told TOI that they will immediately level the stretch with wet mix. "We will put two to three layers of seven-inch wet mix to level the road and free it of potholes within three to four days. Soon after the drain is linkned to the other end, we will completely asphalt the stretch by building 60 to 70 metre railings so that water doesn't come on to the road," an engineer explained.
This news has not been edited by our staff and has been updated to keep the users updated.