CALLING INDIA
THE UNBREAKABLE BOND OF EMOTIONS: PROF PUSHPITA AWASTHI
A segment dedicated to decorated personalities of Indian origin and/or heritage who eventually moved to the foreign land to achieve their professional aspirations. Doing so, they became 'foreigners', for namesake to their motherland. In this segment, we wish to explore their journey from Desh to Videsh and try to peek into their hearts as to where it beats.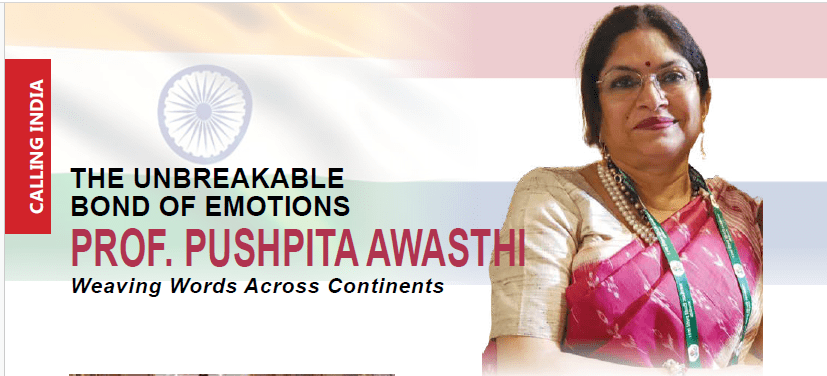 Weaving Words Across the Contitents
Introduction: A Journey from Desh to Videsh
In the heart of Varanasi, amidst the echoes of ancient wisdom and the spiritual resonance of the Ganges, a young girl named Pushpita Awasthi began her journey of literary exploration. Little did she know that her love for words would carry her across oceans and continents, making her a symbol of the unifying power of language and culture. In this edition of "Calling India" in Café Social Magazine, we delve deep into the life and achievements of Dr. Pushpita Awasthi, a remarkable personality who has not only preserved the essence of Hindi but has also woven its threads into the fabric of foreign lands.
The Early Days: Nurturing the Seeds of
Creativity
Born on January 14, 1960, in the vibrant city of Kanpur, India, Dr. Pushpita Awasthi's journey began with the rich cultural tapestry of her homeland. However, it was in Varanasi, the spiritual and intellectual capital of India, that she truly discovered her passion for literature. Educated in the esteemed institution of the renowned philosopher J. Krishnamurti, her formative years were influenced by the profound teachings of luminaries such as Shri Aurobindo and Swami Vivekananda.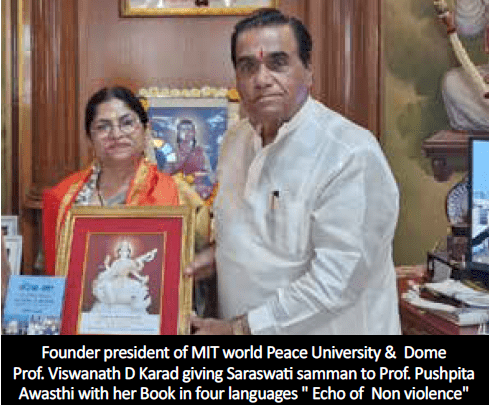 The Journey Begins: From Varanasi to Suriname
Pushpita Awasthi's journey from Desh (homeland) to Videsh (foreign land) truly began when she ventured beyond the borders of India to Suriname, a South American nation with a rich Indian diaspora. In 2001, she embarked on a new chapter in her life as the First Secretary and Professor of Hindi at the Indian Cultural Centre nestled within the Indian Embassy in Paramaribo, Suriname.
Prolific Literary Works: Words That Transcend
Boundaries
Professor Pushpita Awasthi's literary contributions extend far beyond the borders of Suriname. Her bibliography boasts over sixty works, including a collection of poems that have earned international recognition. Her verses resonate with the mystic poise of Kabir's poetry and the amorous verses of the Sanskrit poet Jaidev. Through her words, the essence of nature and love intertwine as the twin pillars of her exceptional poetic expression.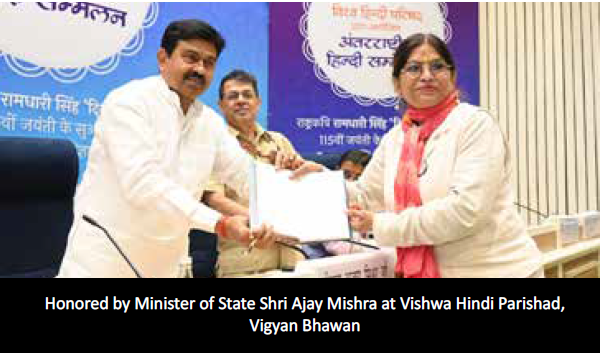 Awards and Recognition: Honoring
Excellence
Dr. Pushpita Awasthi's literary prowess and dedication to promoting Hindi language and culture have not gone unnoticed. Her impressive achievements have earned her a place among the most honored individuals in the field. Notably, she was awarded the prestigious Padma Bhushan Moturi Satyanarayana Award in 2017 by the esteemed Former President of India, Late Mr. Pranab Mukherjee. This accolade recognized her exceptional efforts in advancing the cause of Hindi language beyond borders.

A Multilingual Bridge Builder: Beyond Hindi
Dr. Pushpita Awasthi's literary contributions are not confined to Hindi alone. She has transcended linguistic boundaries with her poetic compilations resonating in both English and Dutch languages. Noteworthy publications include "Woorden bestaat Ze" at the India Institute in Amsterdam; "Het beeld in de rots" (Dutch) published by Amrit Consultancy Netherlands in 2010; "The Statue in the Rock" released in The Netherlands in 2010; "Devvriksh," a collection of poems in both Hindi and English, published by Remadhav Art Pvt Ltd in Ghaziabad, India, in 2009; and "Echoes in the Earth," published by Willow down Books in the UK in 2016.
Intellectual Enrichment and Encounters
Dr. Pushpita Awasthi's literary journey has been enriched by her dialogues with eminent figures from diverse streams of thought. Her interactions with Jayprakash Narayan, the architect of the "Sampoorna Kranti" (Total Revolution) movement, and the Gandhian scholar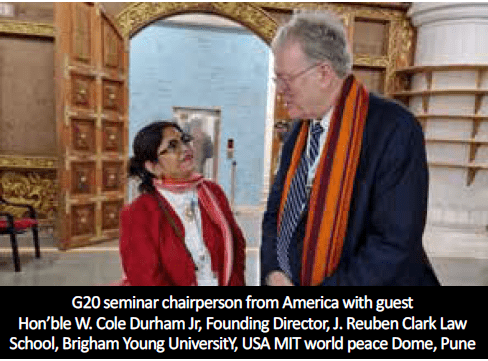 Narayan Desai, provided the pillars upon which her creative world was constructed. Her world was not only enriched by the humanitarian philosophy of J. Krishnamurti but also imbued with the non-violent ideals of Gandhi and Vinoba.
Significant Achievements and Impact
Dr. Pushpita Awasthi's literary journey and dedication to her craft have left a lasting impact on various fronts. Her significant achievements include: Senior Fellowship of Indian Council for Cultural Relations (ICCR), Ministry of Foreign Affairs, Indian Government, 2019-2020.
• 'Pravasi Hindi Sahitya Bhushan Award' by Uttar Pradesh Hindi Sansthan.
• Invitation as a Non-Resident Indian Writer in 2019
by Mahatma Gandhi International Hindi University, Wardha, India.
• Gandhi Peace Award 2019. • Nominated as part of the official delegation by the Prime Minister's Office of India for the 11th World Hindi Conference in Mauritius from 18-20 August 2018.
• Filmization of Dr. Pushpita's poetry 'Prithvi' in Dutch and Hindi languages by NTR TV Channel of Netherlands on 4 June 2017.
Legacy and Continuing Influence
Dr. Pushpita Awasthi's legacy extends beyond her literary works and awards. Her books are available in libraries around the world, including Suriname Houses in Leiden, Amsterdam, The Hague in the Netherlands, and in Guyana, Trinidad, and Mauritius. Research work is being conducted in various universities in India and abroad on more than 70 books authored by Dr. Pushpita Awasthi.
What can Indians do to share their values
and develop globally?
"In Indian culture, the Ayurvedic values for humanity and life at a global level should be connected with the world. In this, the assistance of the Ministry of External Affairs and Indian missions worldwide can play a significant and meaningful role. This can lead India to global leadership at this level. From 2001 to 2005, while working at the Suriname Embassy and the Indian Cultural Centre, I felt this deeply. Since then, I have written 76 books that have been widely discussed and recognized at the global level. People reading my literature and experiencing the global power of Indian culture can promote it for India's global leadership."
Pushp@2023