CALLING INDIA
THE UNBREAKABLE BOND OF EMOTIONS;GIAN DHANNOK CHAND

Segment dedicated to decorated personalities of Indian origin and/or heritage who eventually moved to the foreign land to achieve their professional aspirations. Doing so, they became 'foreigners', for namesake to their motherland. In this segment, we wish to explore their journey from Desh to Videsh and try to peek into their hearts as to where it beats.
In this edition we bring excerpts of our exclusive interview with Mr. Gian Dhannok Chand.
Introduction (About Mr. Gian Dhannok Chand)
Mr. Gian Dhannok Chand is based out of Mauritius and is a celebrated educationist recognized for his service and contribution in the field of promoting education, Indian culture, and diversity for the last six (6) decades. Having globe trotted (England, France, Italy, Switzerland, Nepal, Australia, New Zealand, South Africa, Nairobi, Ghana, Singapore, India, Malaysia, Thailand, Myanmar) and closely interacted with the global NRI Diasporas, he has been working for the betterment of Indian Diaspora in Mauritius.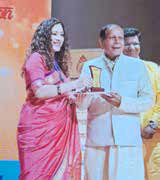 For his exemplary service, he has been conferred with the following recognitions:
M.S.K. (Member of the Star and Key of Indian Ocean) Govt. of Mauritius
Honorary Citizen of Flic end Flac
Hindu Bhushan- by Purohit Mandal
Goswami Tulsidas Samman – Mauritius Sanatan Dharma Temples Federation
Hindu Gaurav – Rastriya Sanatan Dharma Sanghatan
Adarsh Vyakhyata (Lecturer) Rishi Dayanand Institute
Hindu Ratna – Mauritius Sanatan Dharma Temples Federation
Bharat and Malasia Gaurav Samman – Sahitya Sanchaya Foundation New Delhi
Even today when he is currently retired from official job, he relentlessly is engaged in seminars, conferences, social and religious works. He was recently invited at the 17th Bhartiya Pravasi Diwas held in January 2023 at Indore.
Tell us in brief about your professional journey?
Born in 1943, I am a citizen of the Republic of Mauritius and my ancestors came from India in the nineteenth century in the aftermath of the abolition of slavery.
Having graduated from the Delhi University, I started as a primary school educator. Thereafter, went on to complete my post-graduation from Banaras Hindu University. Post that I had the joined the State Secondary Education sector under the Ministry of Education. Subsequently, first I was promoted to the post of Senior Education Officer and finally to the Principal Education Officer, under the Ministry of Education.
In a nutshell, my journey expands from primary to the tertiary sector, dabbling into academics, managing functional departments in the education sector to finally being a lecturer (part-time and otherwise) at the following Universities: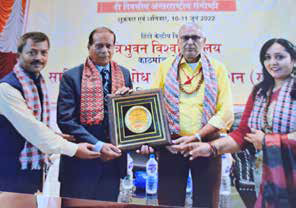 DAV Degree college (Philosophy), Kurukshetra University
Council of Religions under the aegis of the University of Mauritius (to promote interfaith)
Mauritius Arya Sabha and University of Technology (Vedic Studies)
Mauritius Sanatan Dharma Temples Federation and Mauritius Hindu House (Hinduism)
Arya Sabha Mauritius (Hindu Scriptures)
Tell us more about your particular interest in Hinduism and your involvement in creating awareness about its philosophy and ways?
I am highly inspired by the philosophy of Hinduism and have inculcated its concepts for a better. Social activities and services have always been integral part of my life since my youth so as to promote charitable work, reinforce Indian culture, disseminate gems of Indian Philosophy and sensitize youths. I have been deeply involved and been an integral part of temples and other social service organizations serving their executive committees as Secretary and President.
Initially, there was scarcity of books on Hinduism and its cultural aspects. Hence, I have authored several books on simplifying various subjects pertaining to Hinduism for the benefit of students in Mauritian High Schools and Colleges. So far, I have managed to publish more than 28 books and the same are available in our local markets.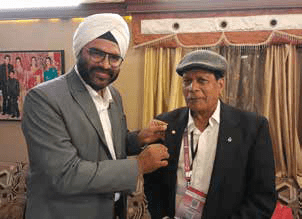 I have had the privilege of attending and speaking at various national and international conferences/seminars on Hinduism (particularly related to Hindu ways of life, relevance of Ramayana, Arya Samaj, various religious books and cultural aspects), presenting papers on relevant issues across Mauritius, India, Nepal, South Africa, Nairobi, Ghana, Malaysia, Myanmar among other places.
You acknowledge your admiration towards our Hon'ble PM – Shri Narendra Modi. Do you believe that he is the "Need of the Hour" for India? In your views, how is he shaping India for future?
I firmly believe that emergence of Shri Narendra Modi in the Indian politics is the best thing that happened in recent times for India. This in fact is clearly visible internationally besides in India. He is regarded as one of the top leaders in the world and commands a huge respect across countries. Indians have always been acknowledged for their knowledge as workers, professionals, decision makers wherever they have settled outside India. However, with the growing influence of Shri Narendra Modi as the Prime Minister of India, it has certainly had a positive impact on the perception of Indians exponentially across globe, and this has also helped in propelling India in the forefront probably ahead of many fast growing nations.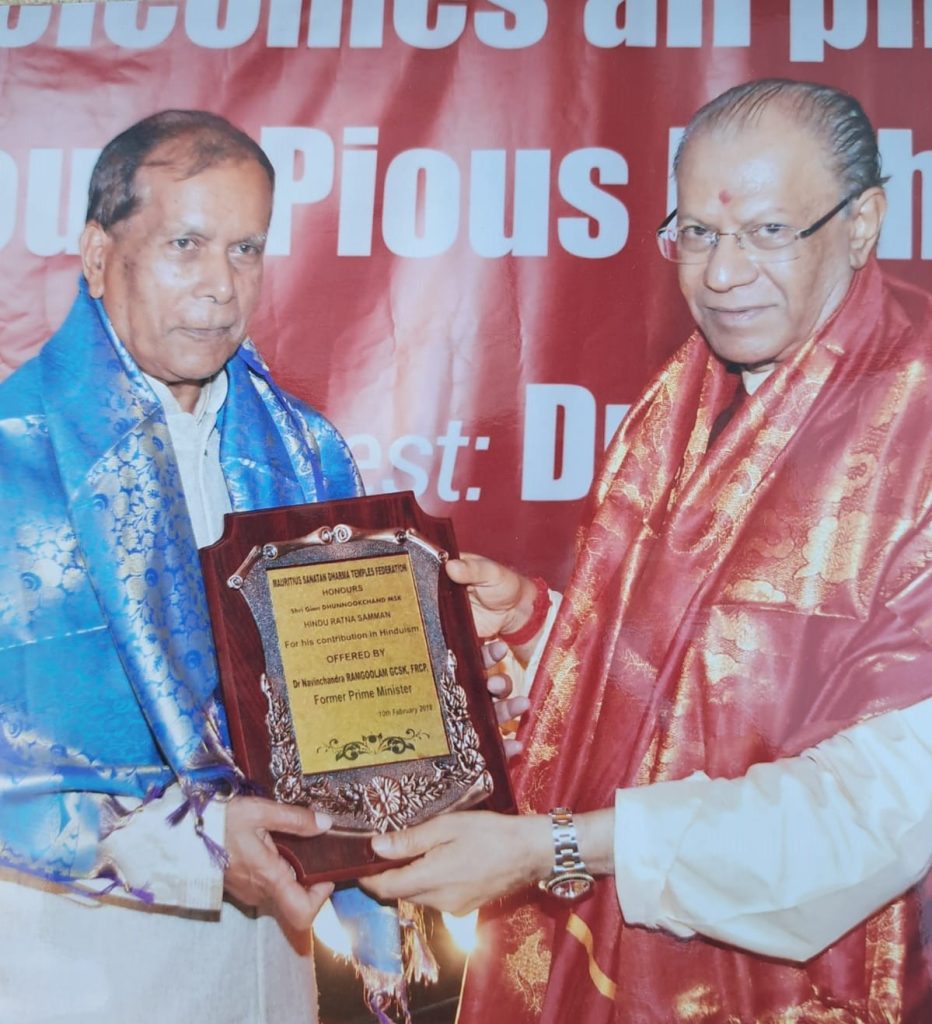 He has left his deep footprints throughout the world, ensured that no stone is unturned to re-establish India's past glory. Given his command on language, diction, and ability to quote historical facts, scriptures, and to the point statements; he has earned a worldwide fan-base. He has been able to Unite Indian Diaspora across the globe and India is being considered as the Engine of Development in the world.
His timely and fearless policy decisions to upgrade Indian economy, digitalize India, measures to reduce the poverty, promote youth technocrats, revolutionize Indian medicine, reinforce and modernize the Indian army has left the world in bewilderment. New India moto with an equally powerful touch of the rich culture and traditions has given a balanced dimension to developments in all spheres of India. Multipurpose roads, new weapons, space ventures on one hand and on the other the Kashi Vishwanath corridor , Ujjain Mahakal Corridor, opening the gateway to Kartarpur Sahab Corridor Sikh Temple in Pakistan, progress made in Ayodhya Ram Mandir case, Hon'ble Minister Hardeep Singh Puri Ji carrying on his head the holy Guru Granth Sahib from Afghanistan to India.
Among his contribution to liberate women from chauvinist social activities, Modi Ji carried a wide campaign of 'Beti Parhawo, Beti Bachawo' for women empowerment, opened the Triple Talaq gangrene from the Muslim women society, the Abolition of Article 370 are some of the daring decisions to drive India towards a quantum leap towards development. Giving impetus to Start-ups /SMEs, opening bank accounts for the poor and for farmers, supply of electricity and free gas cylinders are among countless other initiatives.
Today India ranks among the best economies of the world. That is why the world listens to India and often wants it to mediate in critical matters be it Russia- Ukraine War or economic crisis in Sri Lanka.
The easy access to Pravasi Bharatiya Nagrik Card (overseas citizen of India Card) has been a great support to the Indian Diaspora.
India has been the pillar of strength and support in time of Covid 19 with massive provision of covid vaccine to several countries. In time of crisis and natural disaster India stands among the leading countries to offer help.
Given the above, I am certain that the day is not far when India will become 'Vishwa Guru' and 'Soné ki chiriya' again.
Given a chance would you like to be a part of initiative to address social and other issues for the betterment of the Indian Diaspora in your country? If so, how do you think you can add value?
It would be an absolute honour and a privilege to serve our Indian brothers.
Given the deep reach through my increasing network (amongst Indian Diaspora) I can act as a facilitator in exchange programmes; organize workshops / seminars to create awareness on issues and possible solutions; be a liaision officer for cultural issues. In May, 2022, I welcomed thirty (30) members of Sahitya Sanskriti Shodh Sanstha from Mumbai, and organized seminars/dialogue exchange among the learned members of both countries, facilitated meetings for the delegation with Prime Minister and the President of the Republic of Mauritius.
RAPID FIRE QUESTIONS
The thing you miss the most about India?
Mauritius is a multicultural rainbow island respecting cultural diversities. With the Hindus being in majority, Hindu rites and rituals, festivals, bhajans & kirtans (Ramayana chanting, Hanuman Chalisa chanting and Bhagavad Gita recitation) are performed regularly. All of these have kept us rooted to the Indian culture and close to India despite being away from our motherland.
Your favourite Indian destination?
Having had the opportunity to visit religious spots like Haridwar, Rishikesh, Chardham (Yamunotri, Gangotri, Kedarnath and Badrinath) Ayodhya, Varanasi, Prayagraj, Mathura, Vrindavan, Shringverpur, Chitrakoot, Puttaparthi and other tourist places like Jaipur, Udaipur, Jodhpur, Agra, Amritsar, Indore Delhi, Mumbai, Chhattisgarh etc.; it is literally difficult to situate the best site because India is a land of diversity. I cannot allow myself to be distanced from Indian culture and tradition, hence the prioritized places to visit are religious spots in India.
Your favourite Indian cuisine?
Rasgula, Rasmalai, Rabri, Barfi, Masala Dosa, Cholée Bhaturé, Pani Puri are my favourites.
One word that comes to your mind when you hear the word India?
The moment I hear the word India – I can't stop thinking about the delicious Indian cuisines, its open culture, and a world leader (Shri Narendra Modi) that I look up to.
How have you kept India alive in your family?
India has always been an integral part of our family. Prayers, yoga, worship rituals, meditation, and above all, language Hindi has kept us glued to our culture and heritage. Hindu festivals have become an integral part of Indian Culture in Mauritius. We are fortunate to celebrate all Hindu festivals including Makar Sankranti, Ugadi, Ram Navami, Buddha Jayanti, Guru Purnima, Krishna Janmasthami, Durga Puja, Holi, Diwali, Maha Shivratri etc. with great pomp and fervour.
Any unfulfilled wish?
My wish is to make Ganga Talao (Pari Talao – Grand Basin of Mauritius) equally sacred as river Ganga of India. We feel ever indebted to our ancestors for having settled in Mauritius and preserving the Indian Culture and Sanatan Dharma. I also feel that International invitation to the Indian Diaspora for participation in Maha Shivratri should be extended.