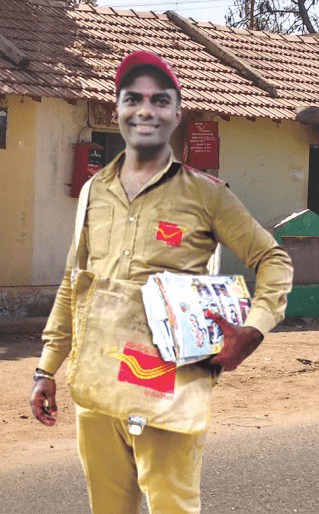 India has the largest Postal Network in ​the world with over 1, 55,015 Post Offices.The network has registered a seven-fold growth since Independence, with the focus of this expansion primarily in rural areas. On an average, a Post Office serves an area of 21.21 Sq. Km and a population of 7175 people or more. In financial year 2021, India post delivered 116.8 million parcels, among which unregistered parcel had the biggest share with around 104 million items.
The Indian Postal Service has a significant impact on our lives in many ways. Delivering mails, accepting deposits under Small Savings Schemes, providing life insurance cover under Postal Life Insurance (PLI) and Rural Postal Life Insurance (RPLI) and providing retail services like bill collection, sale of forms, Aadhar updating etc. It also acts as an agent for the Government of India in discharging other services for citizens such as Mahatma Gandhi National Rural Employment Guarantee Scheme (MGNREGS) wage disbursement and old age pension payments. It will not be wrong to call post offices "social activity centres".
Now let's look into the life of a postman and his routine. In Field Interview with Café Social, Postman – Sachin Khandare who is serving the postal department since last ten years.
Sachin told us; "A postman's life is very challenging. First thing in the morning we sort all the mails as per the localities, beats and assigned routes. Although technology is a help and it has developed the system a lot, nowadays the exercise for keeping the record has also eventually increased our work.
Continuously searching for addresses in localities requires him to work all day. No matter how hot or how rainy it is, the postman will always be there.
Appreciation is very less" People only respect and pay attention to our existence when they are expecting some important documents like a passport or license etc. otherwise our presence is very insignificant for many of them without even looking at our face, with no gestures like asking for a glass of water ….atleast, they just close the door on taking the mail.
पहले खत लिखकर संदेश भेजने की प्रथा थी। पोस्टमैन के साथ इसी कारण से लोगों के आत्मीय संबंध हो जाते थे, क्योंकि उन खतों में भावनायें होती थी और सहयोग पाने की अपेक्षायें भी। पर, संचार के बढ़ते कदमों ने भावनाओं के संसार को सीमित करना प्रारंभ कर दिया है और पोस्टमैन स्वजन न रहकर एक महत्त्वहीन सेवक बनकर रह गया।… आज के युग में यह बड़ी त्रासदी है।
The importance of the postman may have reduced with time due to the introduction of modern communication systems. However, they are still an essential part of our community. They still deliver many important posts, money orders and other government schemes. They reach remote places for their work whether it is mountains and valleys, hilly areas, deserts in all climatic conditions. Nowadays children barely recognize a postman, post office or a post box. With the development of technology, such traditional methods of communication have taken a backseat. In the years to come, with the rapid growth of technology in every corner of the world, it is a possible situation where coming generations might not even know who a postman is…
Cafe Social Team salutes their work spirit and is thankful to the postal services for the important part you play in our life.