Joy of Giving
Suman Sonawane; When Passion Meets Entrepreneurship
In the bustling city of Mumbai, there is a woman named Suman Sonawane who had a passion for cooking. She loved experimenting with different spices and ingredients, and her family and friends always looked forward to her homemade meals. One day, while visiting a local market, Suman noticed that there was a lack of affordable and healthy meal options for people on-the-go. She saw people rushing around, trying to find something quick to eat that wasn't fast food or junk food. That's when she had an idea.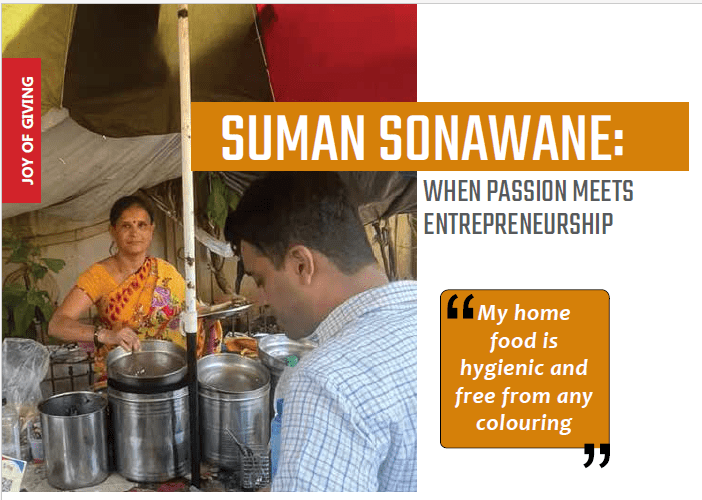 Suman decided to start her own business selling homemade food thalis. She began by cooking up a storm in her own kitchen, using fresh ingredients and traditional recipes that had been passed down through her family for generations. She created a variety of thalis, each featuring a combination of flavorful dishes that would satisfy any appetite. Word quickly spread about Suman's delicious thalis, and before long, she had a regular following of customers who would seek her out for lunch or dinner. Her business grew, and she soon opened up a small stall in a busy street corner of Nariman Point in Mumbai.

Every day for the last 9 years, Suman wakes up early and starts cooking, preparing fresh vegetables, kneading dough, and marinating chutneys. She packs everything neatly into large food containers and loads them onto a cart located on the street. Her customers love her thalis, which includes dishes like aloo mutter, Chana masala, moong matt (sprouts), and a variety of vegetables and rice. Each thali also includes a pickle, chutney and salad all homemade and healthy. Today, Suman's homemade food thalis are still a popular option for people on-the-go in Mumbai. Her business has become a staple in the city, and her passion for cooking has helped her create a successful and fulfilling career.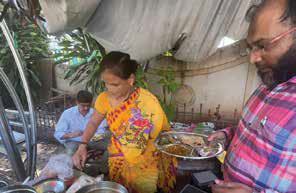 Suman's husband, Laxman, used to work as a driver before; he met with a terrible accident that left him unable to continue his job. This was a difficult time for the couple as they struggled to make ends meet.

But instead of giving up, Laxman decided to start a small business of his own. He noticed that there was a high demand for refreshing drinks in the scorching heat of Mumbai, and that's when he decided to start selling buttermilk on the same lane as Suman's thali stall. Laxman wakes up early in the morning and makes fresh buttermilk, using a secret family recipe that had been passed down from his grandmother. He would then set up his stall nearby Suman's stall and start selling his delicious drink to thirsty customers. The buttermilk is an instant hit, with people coming from all over the streets just to try Laxman's recipe. His drink is not only refreshing but also has health benefits, which makes it a popular choice among fitness enthusiasts.

Suman and Laxman's businesses complemented each other perfectly. Customers who stop by for Suman's thalis often end up trying Laxman's buttermilk, and vice versa. The couple's businesses helped each other grow, and they soon became a well-known and loved duo in the community.

Today, Suman's thali stall and Laxman's buttermilk stall are still going strong. They have expanded their businesses to include new menu items and flavors, but they have never lost sight of the passion and dedication that made their businesses successful in the first place. Together, they have built a life that they can be proud of, and their love and support for each other continue to help them thrive. With the success of their businesses, Suman and Laxman are able to provide a good life for their family. They were able to send their two sons to school and ensure that they had a bright future ahead of them.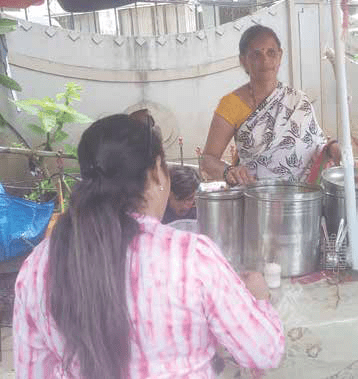 Despite their busy schedules, both Kaushik and Hrithik always make time to help their parents at the stall. They would take turns helping with the cooking and serving customers, ensuring that their parents had a break and could rest. Suman and Laxman are proud of their sons and the values they had instilled in them. They had taught their children the importance of hard work, dedication, and the value of family.
They had also shown them that no matter what challenges they faced in life, they could overcome them with perseverance and determination.

Today, Suman and Laxman continue to run their businesses with the same passion and dedication they had when they started. They have become an integral part of the community, and their thali stall and buttermilk stall are now a landmark in the area. Their success has not only brought them some financial stability but also a sense of self-pride and accomplishment. They have shown that with hard work and perseverance, anyone can achieve their dreams and create a better and more respectful life for themselves and their loved ones.