News
Rythu Bandhu Yojana for a Farmer in Telangana!!
In the coming days, the total payments granted under Rythu Bandhu, the Telangana government's direct benefit transfer scheme for farmers, will surpass Rs 50,000 crore. The state government has been crediting Rs 5000 per acre per season into the bank accounts of land-owning farmers ahead of the Rabi and Kharif seasons since 2018 when the scheme was established by the state government.
The government began crediting money into the bank accounts of qualified recipients in the state on Tuesday, ahead of the ongoing Rabi season.
As many as 66.56 lakh farmers selected as beneficiaries will receive financial support during the next 10 days under the Rythu Bandhu scheme, regardless of the amount of land they possess.
With this, the state government would have distributed Rs 50,405.63 crore to farmers under the initiative since its launch in May 2018, marking a significant milestone.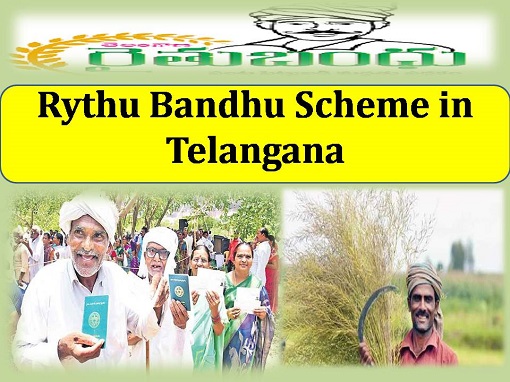 What is Rythu Bandhu?
Rythu Bandhu is a scheme in which the state government provides direct benefit transfer financial assistance to land-owning farmers at the start of the crop season so that they may meet their first investment needs and avoid falling into debt.
As a result, farmers gain confidence, production and income increase, and the cycle of rural indebtedness is broken.
Each farmer receives Rs 5,000 per acre per crop season, with no limit on how many acres they might hold. A farmer with two acres of land would receive Rs 20,000 per year from the government, while a farmer with ten acres would receive Rs 1 lakh per year. The award will assist them in covering the costs of inputs like seeds, fertilizers, insecticides, and labor.
How are the funds being disbursed?
According to the agriculture department's data, 66.56 lakh farmers hold agricultural lands totaling 1.52 crore acres.
A total of Rs 544.55 crore was deposited in the accounts of 18.12 lakh farmers with up to one acre of land on Tuesday.
On Wednesday, farmers with between 1 and 2 acres will receive the grant. On Thursday, those who own between 3 and 4 acres will receive the grant. All farmers who own 10 acres or more will receive Rythu Bandhu's help in their accounts on the last day.