General
Trending
Printmakers & Contemporary Artists: Uma Shankar Shah & Seema Shama Shah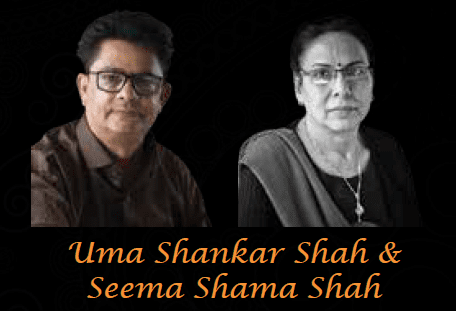 Uma Shankar Shah and Seema Shama Shah are considered two of the most prominent printmakers and artists in contemporary art today and are pioneers in the field of Color viscosity print-making. They have both participated in more than 70 shows held across Japan, Korea, USA, UK, the Netherlands, France, Vienna, Indonesia and China. Their works are in the collections of the World Bank, New York, Asian Museum Japan, Fukuoka; Gaekwad Art Foundation, Mumbai; Andaman Museum, Thailand; MONA museum Nepal; the Museum of Sacred Art, Brussels; Chongqing Institute of Fine Art, China and Lalitkala Academy, Delhi among premiere art collections in India and abroad. 
They jointly won the "Best Etching Award" at Art Fest Doral in Miami twice in 2013 and 2014 and an honorable mention at 1st Printmaking Biennial 2018, India. Their solo shows have been exhibited globally in galleries such as the the Peter Paul Rubens gallery in the Kunsthistorisches Museum, Vienna; Jehangir Art Gallery, Bombay; Shridharani Art Gallery, Visual Art Gallery at the India Habitat Center, Gallery Ganesha and Rabindra Bhavan, New Delhi; Juno Art Gallery, South Korea; Siddhartha Art Gallery, Nepal and Welt Museum,Vienna.


Their newest exhibition titled "Icons in Pilgrimage"is currently on display at Gallery Ganesha in Greater Kailash, New Delhi where they display their most recent work created during the covid-10 pandemic. Seema's recent works in her 'Vanarasi series' pays homage to a town where she grew up and creates a unique interaction between memory and the method, using the technique of color viscosity printmaking, the works play with ideas of vagueness, permanence, artificiality and transitivity of the human mind and memory.

The methods and angles used, the imaginary shadows of the monuments in the skies for example, the many editions and imagined renditions created of the ghats, some with and some without individuals, all present a distinct interaction of printmaking with the city of ghats which in itself is an ode to thousands of years of mythological, social and political memory.

Uma Shankar's Ramayana series questions the boundaries between the term "folk art" and modernist concepts of art through the use of surrealist motifs, modern compositions and european-born etching and color viscosity techniques to recreate renditions of the traditional iconography of mithila art.

Uma Shankar portrays Ravan as the traditional firework puppet that is set alight in Dusshera to celebrate the victory of good over evil. Arrows dart across the battleground, the great beasts of war—elephants, horses and chariots—are featured amongst the dead and the wounded. The artist uses Ramayana doha, writing direct text from Maithili, Awadhi, Bhojpuri, and Sanskrit to reverentially evoke the mood of this great epic.

The show at Gallery Ganesha will being on the 10th of October and remain on display till the 31st of October.