News
PM Modi Appeals to Vladimir Putin to End Violence
As Russian forces attacked cities in Ukraine, India's Prime Minister Narendra Modi called Russian President Vladimir Putin on Thursday night, pleading for an "immediate cessation of hostilities" and emphasizing the safe withdrawal of India's citizens from Ukraine was of the utmost importance to India.
PM Modi called for "consistent efforts from all sides to return to the path of diplomatic negotiations and dialogue," according to a statement from the Prime Minister's Office.
According to the statement, he repeated his "long-standing conviction that the disagreements between Russia and NATO can only be resolved via honest and sincere conversation."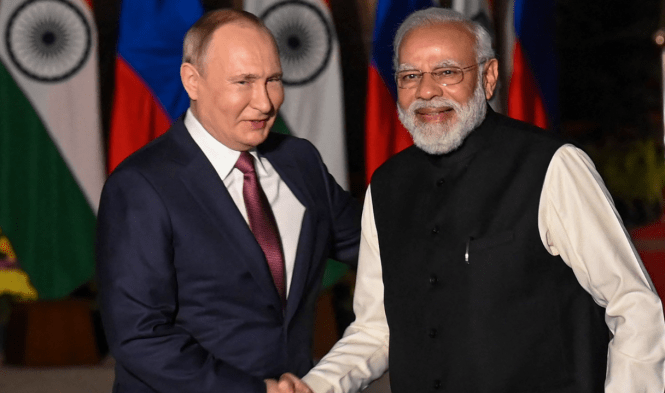 President Putin informed Prime Minister Modi of the latest events in Ukraine.
India's worries over the safety of Indian citizens in Ukraine, particularly students, were also raised by the Prime Minister. He stated that India places high importance on their safe exit and return.
"The presidents agreed that their officials and diplomatic teams would maintain regular contact on matters of mutual interest," according to the statement.
After months of anxiety over the former Soviet republic's proximity to NATO, Russia launched military operations against Ukraine on Thursday morning.
Tanks and other heavy equipment moved into various northern Ukrainian districts, separatist-controlled areas in the east that Russia has recognized as independent nations, and the Kremlin-annexed Crimean peninsula in the south.
Throughout the day, Russian missiles rained down in several places. According to the Russian Defense Ministry, 74 above-ground military infrastructure sites, including 11 aerodromes, were destroyed in Ukraine. According to Ukraine, Russia has launched 203 assaults since the day began.
According to an AFP assessment based on multiple Ukrainian state sources, at least 68 persons were killed, including military and civilians.
"What was happening left us with no choice," Mr. Putin, who previously stated that Ukraine is a puppet of the West, addressed his country's business representatives today.
Igor Polikha, Ukraine's envoy, had requested India's involvement earlier today, stating that Modi-"stature ji's makes me hopeful, that with Modi Ji's loud voice, Putin will think."
PM Modi had a meeting with his top ministers on Thursday evening, emphasizing the need of focusing on securely returning Indian nationals.
"Prime Minister Modi emphasized at the CCS meeting that the government's main priority is the safety and security of Indian people, especially students in Ukraine," Foreign Secretary Harsh Vardhan Shringla said.