News
Malayalam actor Vijay Babu booked for rape, survivor says he tortured her for movie roles
Malayalam actor Vijay Babu has been booked for rape after an actor accused him of sexually assaulting her for movie roles.
Malayalam actor Vijay Babu has been booked for rape, after a woman, also an actor, accused him of sexually assaulting her for movie roles. Vijay Babu has denied the allegations and also said he "won't let her get away easily".
The victim had on April 22 filed a case against actor Vijay Babu, alleging that he physically assaulted her and sexually exploited her from March 13 to April 14, 2022. The victim, in a post on the Facebook group named Women Against Sexual Harassment, has elaborated on the details of the alleged sexual assault.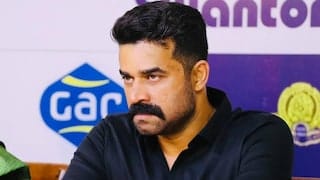 The victim, in her complaint, alleged that Vijay Babu had tortured her several times at his apartment in Ernakulam by promising her better opportunities in the film industry. Later, Vijay Babu was charged with rape and causing grievous physical harm. The police have not yet been able to question him on the matter yet.
The victim began her post by saying that she had known him for a few years in the industry and had worked with him for a movie. She alleged that throughout this time he had gained her trust by being friendly and advising her, as she was a newcomer in the film industry with no proper guidance.
"He behaved like my saviour for my personal and professional problems but sexually exploited me," claimed the victim.
However, on the night of April 26, Vijay Babu came on a Facebook live and alleged that the young woman was torturing him and that he was the 'real victim'. He also revealed the identity of the victim.
"I haven't done anything wrong. I'm the victim. The law of this country protects her and she is at ease while I'm the one who is suffering," he said.
"I will file a defamation case. I won't let her get away that easily. I can share all the proof I have, but I won't because I don't want to cause damage to her family. I'm answerable only to my wife, mother, sister and friends. And I don't want this to end with a piece of small news saying, 'Vijay Babu found not guilty'," he added.