Wardi
A FEARLESS OFFICER WHO CLEAN THE STREETS IPS ROOPA DIVAKAR MOUDGIL
Some women clean the house, others clean the street who are known as female cops, Roopa Divakar Moudgil popularly known as D Rupa is our decorated fearless officer in Khaki.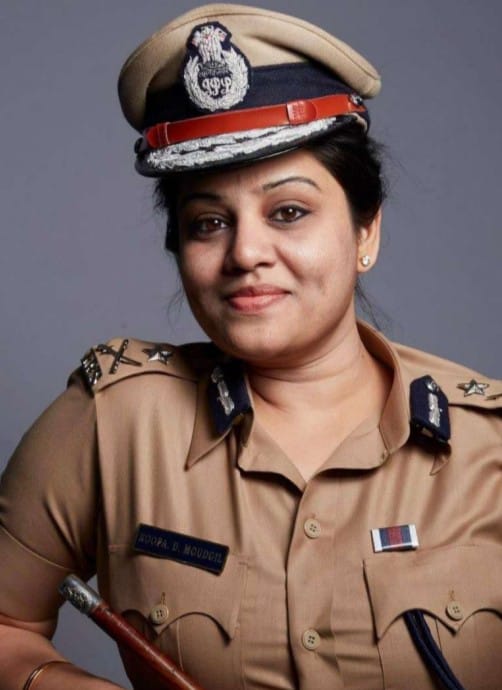 Roopa Divakar Moudgil, popularly known as D. Roopa is the first women Indian Police Service (IPS) officer of Karnataka (from Davanagere) and is currently the Inspector-General of Police Home Secretary in Bangalore, Karnataka. D. Roopa also became India's first female police officer in charge of the Cyber-Crime police division in 2013. She is also honoured to be the state's 30th Superintendent of Police, as well as the first woman officer to be chosen as the state's Home Secretary of Karnataka. She has held as many executive offices as well as non-executive offices, making a total of around 41 offices to be held in 20 years.
She is a known face amongst the IPS officers and has been a part of various talks at TEDx conferences. Her TEDx talk video on You Tube titled 'Why Bureaucrats hesitates to act' has a record number of views (around 27 lakhs) making it amongst top viewed TEDX video given by Bureaucrats.
She is also a playback singer in Kannada cinemas and well versed with Hindustani and Classical music. Not just that, she is also a trained Bharatnatyam dancer.
D. Roopa cleared her UPSC exam with an All-India-rank of 43 in 2000. She could have chosen IAS but she opted for IPS because she was inspired by Khaki in her NCC cadet days.
From being a rank holder to being crowned Miss Davangere to her journey of being an IPS officer, her list of achievements is cosmic. She is an example of how self-belief, perseverance coupled with a fiery growth mindset leads to massive success.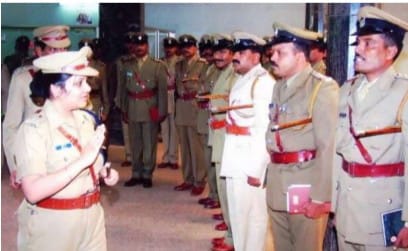 Early Life
D. Roopa, was born in Davanagere. D. Roopa belongs to a highly educated family. Her father is J. S. Diwakar, a retired engineer and her mother is Hemavathi. She has one younger sister, Rohini Divakar, who is a graduate of the 2008 batch of the Indian Revenue Services (IRS officer) of the 2008 batch and is currently posted as Joint Commissioner Of Income Tax.
D. Roopa completed her graduation from Kuvempu University Karnataka with a gold medal and a postgraduation MA in psychology from Bangalore University. It is not known to many of us but besides her splendid academic and professional career, she has very deep passion for Music and singing. She has recently released a music video on 2018's International Women's Day to inspire women. She was awarded with Prestigious SP Balasubramaniam Award. Apart from being a Rank holder, both in her academics and during her Police training period she has also been crowned Miss Davangere and many more such achievements. In 2003, she married Munish Moudgil, an alumnus of IIT Bombay and currently an IAS officer. They have two children Anagha and Rushil.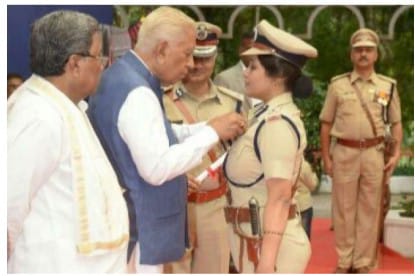 Career
The intense and rewarding career she has is inspiring. Roopa cleared her UPSC exam with All-India-rank 43 in 2000. She underwent training at the Sardar Vallabhbhai Patel National Police Academy in Hyderabad, where she was ranked 5th in her batch and was allotted to the Karnataka Cadre.
Her love and passion for wearing the Khaki was deep rooted in her heart and soul right from the time She was in 8th standard when she joined NCC. The inspiration and zeal that filled her to wear the Khaki Dress came from TV Series "Udaan" on Doordarshan. Udaan is a story which was based on life of India's second woman IPS officer Kanchan Bhattacharya. Roopa gained the inspiration to join IPS and mainly from her idol Kiran Bedi.
After the successful completion of her IPS training, Roopa was posted as Superintendent of police (SP) in Dharwad district, north Karnataka. To highlight how dedicated and how fearless she is one must have a look on the high-profile cases that she has taken up which involves well known bureaucrats and politicians including Ex-CM's too. In 2007, she was given the role of arresting the then Madhya Pradesh Chief Minister and former Union Minister Uma Bharati in relation to a court case in Hubballi. In 2008, she arrested an ex-minister. During this case, she also got her subordinate DSP suspended for being in continuous touch with the ex-minister she arrested and tried to protect the guilty. Her dedication and honesty made her grow to enormous heights.
While she was the DCP, City Armed Reserve, Bengaluru, she had withdrawn 216 excess gunmen kept unauthorisedly by 81 politicians. She also had withdrawn 8 new SUVs of the department that unauthorisedly remained with an ex-Chief Minister of Karnataka. Her bravery and courage of handling such high-profile cases didn't stop there. In 2017 she bravely and confidently exposed the VIP treatment that was enjoyed by then AIADMK general secretary in the Parappana Agrahara Central Prison.
She was selected by Israel Foreign Ministry to be part of the "Discover Israel delegation" to promote ties between the two countries. She has been transferred 41 times in 17 years till 2017 and has faced privilege motions for naming politicians in FIRs.
D. Roopa was awarded the President's Police Medal for Meritorious Service in 2016. What best describes D. Roopa is her courage, her mental toughness and her risk-taking ability, all these things mold up one's behavior and mindset. Bravery and boldness are her strengths and she embraces them with honesty.