News
Kanpur: 4 More held from the clashes in Beckanganj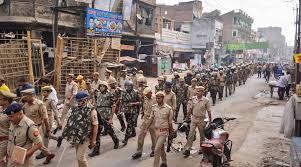 A day after clashes in Beckanganj area of Kanpur, police on Saturday said four more people have been held, taking the number of arrests to 22, and claimed to have identified the main conspirators behind the violence.
The government has asked police to invoke NSA against the accused, and said the probe will look into the source of their funding. On Saturday, police lodged three separate FIRs related to the violence, two of them filed by police personnel and one by a private person. The FIRs name 55 persons and hundreds of unidentified people for allegedly having a role in Friday's clashes.
Pointing out that police are trying to identify the accused with CCTV footage, Additional Director General (Law and Order) Prashant Kumar said the accused and conspirators will be booked under UP Gangsters and Anti-Social Activities (Prevention) Act and their properties would be seized and bulldozed.
Kanpur Police Commissioner Vijay Singh Meena said that 22 people have been arrested so far; of them, 18 were held on Friday.
Bank accounts of the arrested persons will be scrutinised and their association with other organisations, including the Popular Front of India (PFI), would be looked into during investigation, Meena said.
He said the probe will also look at whether there was any negligence on police's part.
According to officers, their probe found members of a local outfit named MMA Jauhar Fans Association as main conspirators. As per the association's website, it is a non-profit organisation operating for the last 12 year, focussing on alleviating poverty and social justice.
Meena said among the arrested is the association's national president, Hayat Jafar Hashmi, its UP chairman Javed Ahmed Khan, member Mohammad Rahil, and one Mohammad Sufiyan of Kanpur.
Javed Ahmed used to run a news channel from Lucknow, police said. "After the violence, we learnt that these people left Kanpur and hid in Javed's Lucknow office. Police raided the office and arrested them," an officer said.
Police claimed to have seized six cellphones from them and will send them for forensic examination. Meena said they will seek 14-day police custody remand of the accused from court to question them in detail.
According to police, during interrogation, the accused named five or six people who were involved with them.
"We have so far identified 36 people involved in the case with the help of different sources, including videos and WhatsApp messages," an officer said.
Meanwhile, 12 companies of Provincial Armed Constabulary (PAC) have been deployed in areas under Beckanganj police station, where violence took place.
The fans association had called for a "bandh' in Kanpur on Friday to protest an objectionable statement against the Prophet, purportedly made by BJP leader Nupur Sharma during a TV debate on May 27. Violence broke out in some areas when some people tried to force shopkeepers to down shutters, police said. Two groups soon entered into a scuffle and threw stones at each other following a heated exchange.
Several people, including police personnel, were injured in the clash.
The association had also called for a 'jail bharo andolan' on Sunday and urged people to reach Rajbi Road in Kanpur.
The three FIRs have invoked various Sections of IPC, including 307 (attempt to murder), 153 (wantonly giving provocation with intent to cause riot) and 336 (act endangering life or personal safety of others).
The First FIR, lodged by sub-inspector Arif Raza, names 19 persons and includes 350 unidentified people. The second FIR was filed by Beckanganj police station SHO Nawab Ahmed against 36 named and 450 unidentified accused.
This news had not been edited by our staffs and has been posted to keep the users updated.