News
India's position on Russia well known and it won't change: PM Boris Johnson
India's position historically on Russia is well known and they are not going to change that, UK PM Boris Johnson said after his summit meeting with PM Narendra Modi that, according to foreign secretary Harsh Shringla, saw talks on the Ukraine issue on "convivial terms''.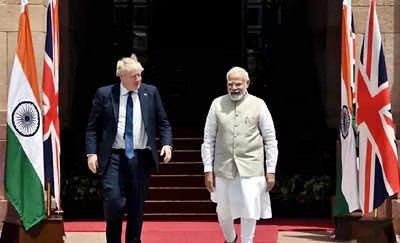 That Johnson has reconciled himself to India's position, at least in public, is significant as India remains under pressure from other "like-minded'' partners like the US and Japan to review its stand which many in the West see as favourably inclined towards Moscow. In his recent virtual summit with Modi, President Joe Biden had asked India to not accelerate its oil imports from Russia and to abide by US sanctions.
Johnson was expected by many in Britain to use the much-anticipated talks on Ukraine to convince India to take a hard line on Russia but the UK PM seemed to suggest India was already doing enough. "India, and Modi in particular, has used very strong language on the Bucha killings. He has intervened several times with Putin to ask him what on earth is going on. India wants peace and also Russia out (of Ukraine). I totally agree with that,'' said Johnson, in a press conference he held after the meeting, adding that India and UK are being encouraged by autocratic coercion to do more together.
Johnson spoke about Russian barbarism'' in Ukraine also agreed with the assessment that Russia was focusing on the Donbas and south to claim easy victory. He said Russianvictory'' was a realistic possibility. "Yes, I mean, look, I think the sad thing is that that is a realistic possibility," he said, but also added that Putin will not be able to conquer the spirit of the Ukrainian people.
Providing India's version of the conversation, Shringla said Modi explained India's position very clearly and there was no question of any pressure from the UK on energy ties with Russia.