General
Increase in cases of Animal Cruelty,last 10 years!!
In the last ten years, India has seen about 5 lakh cases of animal cruelty, with the number of unreported cases likely to be much higher.
What we humans can do to animals knows no bounds, sometimes for no apparent reason. In India, the number of cases of animal cruelty is on the rise, which is a cause for concern.
According to research published by the Federation of Indian Animal Protection Organisations (FIAPO) and All Creatures Great and Small (ACGS), a total of 4,93,910 animals were killed by humans between 2010 and 2020.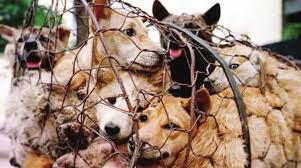 Sad reading
There were 720 incidents involving street animals, 741 involving working animals, 588 involving companion animals, 88 involving farm animals, and 258 involving wild animals and birds. These were heinous and deliberate acts of violence that resulted in the animal's death or irreversible injury.
The paper, titled "In Their Right-Calls for Parity in Law for Animal Victims of Crimes," is the first of its kind to detail the atrocities perpetrated against animals by humans. Rape, murder, kicking, beating, and striking with rods and stones are among the crimes committed by mankind.
Acts of horrible violence
According to the research, 720 cases of crime against street animals, 741 cases of crime against working animals, 588 cases of crime against companion animals, 88 cases of crime against farm animals, and 258 cases of crime against wild animals and birds have been documented. These were heinous and deliberate acts of violence that resulted in the animal's death or irreversible injury.
A dog raped with a screwdriver in Goa, a langur hung and tortured to death in Telangana, and a street dog assaulted, tied to a motorbike, and then thrown over the second floor of a building in Ludhiana are just a few of the heinous crimes against animals that have been documented.
FIAPO and ACGS have requested that the government create a dedicated ministry to oversee aspects of animal welfare, protection, and rights, citing the findings of their report, as the Animal Welfare Board of India (AWBI) are under the Ministry of Animal Husbandry and Fisheries is a clear conflict of interest.
The report also calls for the National Crimes Records Bureau to produce a public record of animal-related crimes (NCRB). Furthermore, the report advises that crimes against animals be adequately rated and that suitable punishment be administered by the seriousness of the offense.