News
Foreign secretary hints India may join US-Indo-Pacific plan
With PM Modi set to leave for Japan to attend the Quad summit, foreign secretary Vinay Kwatra said the proposed US-Indo-Pacific economic framework plan for the region was still under discussion but hinted that India may join the initiative.
The economic dimension of the Quad cooperation was important for harnessing economic opportunities in the region, and this will be one of the focus areas for PM Modi during the visit, foreign secretary Vinay Kwatra added.
The government has also reiterated its position on wheat, saying the decision to regulate exports is also meant to protect vulnerable countries.
PM Modi will have bilateral meetings with US President Joe Biden and also his Japanese and likely Australian counterparts, Fumio Kishida and Anthony Albanese, respectively.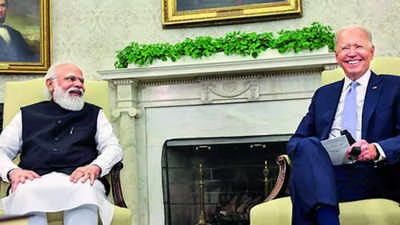 Albanese is expected to take over from Scott Morrison who was ousted by the Labour Party in the elections on Saturday. While the situation in Ukraine is again expected to be discussed in detail, Kwatra said foreign powers were appreciative of India's position that sought cessation of hostilities and return to dialogue and diplomacy.
Asked specifically about how much of a factor China's behaviour will be in the discussions, Kwatra said that whenever Quad leaders meet they look to address both challenges and opportunities in the Indo-Pacific.
"Bilateral relations are a separate issue, but right now whatever issues related to the Indo-Pacific that are on agenda will be discussed," he said.