News
Delhi News Live: Arrested AAP MLA Amanatullah Khan declared a history-sheeter, 'Bad Character of Jamia' by Delhi police
Delhi News Today Live Updates 13 May, Delhi Weather Today, Delhi Covid-19 Cases Updates, Delhi Heatwave Updates, Delhi water shortage News: A heatwave spell is set to hit Delhi from May 13 to 15 with the maximum temperature likely to settle at around 44 degrees Celsius on Friday, according to the IMD forecast
A day after AAP MLA Amanatullah Khan was arrested during demolition clashes in Madanpur Khadar, Delhi Police Friday opened his history sheet and declared him 'Bad Character of Jamia Nagar area.' Khan was arrested while 12 residents, including a woman and her minor daughter, were detained on Thursday.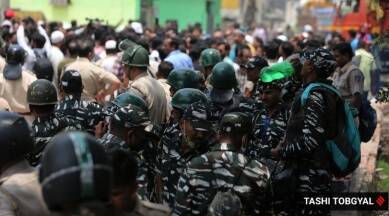 Meanwhile, Delhi Deputy Chief Minister Manish Sisodia Friday wrote a letter to Union Minister Amit Shah asking for his immediate intervention and to stop the 'Demolition Drive in Delhi'. "The BJP and its leaders crossed all lengths to run its 'cheap' bulldozer politics in Delhi despite its period is over in MCD," Sisodia said.
In the letter, Sisodia also asked Shah to "conduct demolition activity in the houses of BJP leaders who took money and let people construct houses on unauthorised lands".
Clashes broke out between locals and Delhi Police personnel during an anti-encroachment drive by the South Delhi Municipal Corporation (SDMC) in Madanpur Khadar on Thursday.
In weather-related news, a heatwave spell is set to hit Delhi from May 13 to 15 with the maximum temperature likely to settle at around 44 degrees Celsius on Friday, according to the India Meteorological Department (IMD) forecast. While a 'yellow' alert has been issued for Friday and Saturday, an 'orange' alert has been issued for Sunday, when the maximum temperature could increase to around 45 degrees Celsius.