News
Cloudburst in Amarnath, 15 dead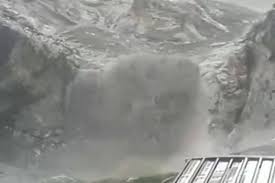 NEW DELHI: A cloudburst was reported to have struck near the base camp of the holy cave shrine of Amarnath in the south Kashmir Himalayas on Friday. Ten people have been reported dead so far.

A cloudburst incident resulted in a heavy discharge of water in the 'Nallah', adjoining the holy cave.
"Some langars and tents have come under cloud burst/flash floods at Holy Cave," IGP Kashmir, Vijay Kumar said. Injured are being airlifted for treatment and the situation is under control, he added.

According to the Indo-Tibetan Border Police (ITBP) officials, the cloud burst occurred at the lower holy cave (Amarnath) at around 5.30 PM and the rescue teams rushed to the spot.
A team of Central Armes Police Force and the Indian Army acted swiftly and carried out the evacuation operation, which is currently underway.

After a cloudburst incident was reported, Union home minister Amit Shah took note of the situation and said saving the lives of people was on priority.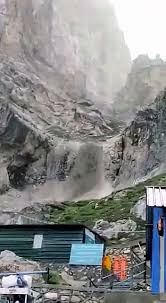 Jammu and Kashmir LG Manoj Sinha briefed Prime Minister Narindra Modi and Home Minister Amit Shah on the cloud burst at Amarnath cave that led to death of at least 13 people on Friday.

"Deeply pained by unfortunate incident of cloudburst at Shri Amarnathji holy cave, in which precious lives have been lost. I send my heartfelt condolences to bereaved families. Rescue operation by NDRF, SDRF, BSF, Army, JKP & Shrine board admin is in progress," the office of LG J&K tweeted.
"Spoke to Hon'ble PM & Hon'ble HM and briefed about the incident. Hon'ble PM & Hon'ble HM has assured all the help. Our priority is to save the lives of people. Instructions have been issued to provide all necessary assistance to pilgrims. I am closely monitoring the situation."

PM Modi condoles loss of life in Amarnath cloudburst
Prime Minister Narendra Modi condoled the loss of life in the cloudburst near the Amarnath holy cave shrine in Jammu & Kashmir on Friday.
"Anguished by the cloud burst near Shree Amarnath cave. Condolences to the bereaved families. Spoke to Manoj Sinha ji and took stock of the situation. Rescue and relief operations are underway. All possible assistance is being provided to the affected," Modi said in a Twitter post.

Yatra suspended till further notice
As the situation in Amarnath yatra became critical after a cloudburst struck the area near the holy shrine with at least 10 dead, the pilgrimage's suspended till the situation returns to normal, informed the officials on Friday.
"Situation is under control, rains are still going on. Looking at the hazard level, the Amarnath Yatra has been halted temporarily due to the area being inundated. If the weather remains normal and makeshift arrangements are made, then the yatra can be resumed tomorrow," said ITBP spokesperson PRO Vivek Kumar Pandey.

This news has not been edited by our staff and has been posted to keep the users updated about the things happening in and around the world.