News
Bengaluru: Passenger rush continues at KIA
Kempegowda International Airport (KIA) saw heavy passenger rush on Sunday morning with many flyers jetting off to various locations for a summer break. Morning hours witnessed long queues even outside the terminal, with many waiting to enter.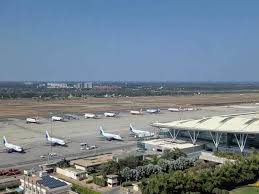 With the pandemic situation easing and the Centre lifting travel restrictions — especially the international flight ban — air travel has picked up pace. Adding to it is the summer break with many people flying out to various destinations from Bengaluru. In the last few weeks, the travel surge has led to brief crowds in front of check-in counters and pre-departure security check points.
A similar situation unfolded on Sunday morning and some passengers vented their ire on social media. TOI had earlier reported on the passenger rush and flyers demanding opening of more check-in counters by airlines in the wake of some of them missing scheduled flights due to long waits at baggage drops.
Sources with Bangalore International Airport Limited (BIAL) said the morning rush was only for a few minutes as more passengers arrived at the same time for their scheduled flights. The situation eased with airport personnel speeding up entry procedures. The rush is expected to subside when the summer break ends