News
Bengaluru: Gomatha cooperative society to be established soon – Bommai
Chief minister (CM) Basavaraj Bommai instructed concern authorities to form plan to establish Gomatha cooperative society on experimental basis in the state in order to provide market for cow produces.
Bommai spoke at the progress assessment meeting of animal husbandry department on Friday, May 6. He further said, "Veterinary clinics of rural areas should by changed into new model. Diploma students should be recruited as staff. Permission should be given to start 50 veterinary clinics on rental basis."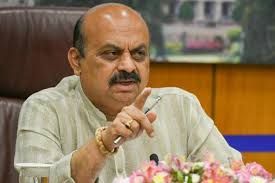 The CM instructed to identify sites to increase the number of Goshalas from present 31 to 100. He also directed to start Punyakoti adoption scheme portal by the end of June and mention the number of cows adopted in each Goshala.
Bommai said that he will provide Rs four crore grant to distribute 2000 cow breeds through KMF in order to protect the cow breed and increase their numbers. He also instructed to establish research unit to develop the technicality of cow produces at veterinary medical college of Shivamogga, five lac rupees aid for shepherds to build barns and residence for shepherds and build 5,000 houses under NAREGA scheme and Rajiv Gandhi Housing Corporation.