News
A married student in Kerala kills herself, dowry was the reason, and her husband gets jailed.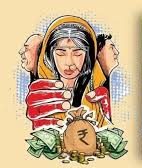 In Kollam district of Kerala state, a medical student named Vismaya hanged herself at her home last year, and her husband was given punishments from the Kollam Court, yesterday on May 24. On June 21, 2021, 22-year-old Vismaya was found dead at her home in Sasthamkotta of Kollam district in Kerala.
Her husband, Kiran Kumar was sentenced to 10 years in jail for dowry death, six years in jail for encouraging Vismaya to commit suicide, and two years for harassing his wife in want of dowry. Kumar was also sentenced to one year for demanding dowry, and six years for taking dowry.

"The sentences would run concurrently," the court said, as a result Kumar has to stay 10 years in Jail altogether. Also, the court has imposed a fine of Rs.12.55 Lakh, out of which Rs.2 Lakh will be given to the family of the victim.

A day prior to the incident, Vismaya had sent WhatsApp messages to her family members over the supposed provocation by Kumar over settlement, as well as photographs of wounds and scratches of beatings on her body.

Kerala Police in its more than 500-page charge sheet had said that Vismaya committed suicide because of dowry harassment. Kumar was blamed for demanding dowry, actually harassing his better half, incurring wounds and undermining and abetting her suicide.

Her dad had claimed that a vehicle worth Rs 10 Lakh, 100 sovereigns of gold and one- acre land, was given as dowry to Kumar during the wedding in 2020.

"But Kumar did not like the car and wanted Rs 10 lakh in cash. When we told him it was not possible, he started torturing her" Vismaya's dad had claimed.