Cover Story
A HEARTFELT SALUTE TO LATE CDS BIPIN RAWAT!!
THE MAN WITH A DRIVE TOWARDS SELF-EFFICIENT AND TECHNOLOGICALLY DRIVEN INDIAN ARMY
"To emerge as a global power, it is imperative that India must invest in building long-term indigenous capabilities or applications of decisive military power. The unequivocal assurance of our commitment to procuring indigenous equipment and weapon systems will remain with the industry and all those who support them."

Gen Bipin Rawat in August 2020, while addressing the Defence Industry Outreach Webinar.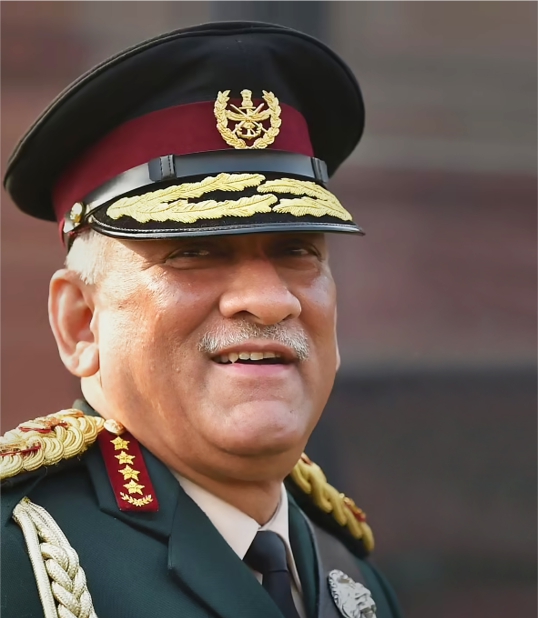 INDIA is mourning the loss of its first-ever Chief of Defence Staff and former Army Chief General Bipin Rawat and 12 other Indian heroes pursuant to a helicopter crash near Coonoor in Tamil Nadu. Recipient of several prestigious awards like param vishisht seva medal uttam yudh seva medal, sena medal, and vishisht seva medal, CDS RAWAT had been the torchbearer for promotion of cutting edge technology and usage of indigenous military equipment in India. The 63-year-old CDS had a firm belief in India's potential to be at the forefront and become an efficient exporter of defence equipment.
"Apne Senao par hei hame garv, aao milkar manaye Vijay Parv"
Quoted above was last public message by CDS Bipin Rawat, a day before his tragic death in a helicopter crash. A mastermind of military tactics- the decorated general was accorded 18 gun salutes in the presence of 800 service personals and ministers, who had come to pay last respects on the general's funeral. On the occasion, DRDO DG Dr. Upendra Kumar Singh fondly recalled CDS Rawat's goal of employing indigenous weapons in future warfare.
In a way of paying homage and fulfilling Gen Rawat's vision for the Indian Army, Rajnath Singh, Defence Minister of India, handed over Made-in-India products comprising Smart Anti Airfield Weapon, Advanced Chaff Technology, Counter Drone System, and Modular Bridge System to the Armed forces.
A CONQUEROR
CDS Rawat conquered momentous milestones in his life span. He was an alumnus of Defence Services Staff College, Wellington and the Command and General Staff College (CGSC) course, Kansas, USA. Moreover, he had been awarded for both gallantry and distinguished service with the UYSM, AVSM, YSM, SM, VSM, COAS Commendation on the Army Commander's Commendation.
Gen Rawat made remarkable changes to the Indian defence services sector, by not only pushing legal reforms but also resisting the status-quo attitude. His unparalleled experience in high altitude warfare and counter-insurgency operations brought General Rawat the 'Sword of Honour' while being commissioned in the Fifth Battalion of the Eleven Gorkha Rifles in December 1978, from Indian Military Academy, Dehradun. Apart from imparting knowledge at Indian Military Academy, Dehradun, and at Army War College, he had commanded a Rashtriya Rifles sector, an infantry battalion, along the Line of Actual Control in the eastern sector and an Infantry Division in the Kashmir Valley.
Gen Rawat spread his gallantry beyond the borders of India with his contribution to Chapter VII mission of the UN Charter in the Democratic Republic of Congo (MONUC) for which he twice received the Force Commander's Commendation Award.
A VISIONARY
With his visionary thinking and go getter attitude, Gen Rawat had immensely contributed in carrying out surgical strikes across LOC, 2015 cross-border operation into Myanmar against a significant ambush by Naga militants and operation at Jaish-e-Mohammad terrorist training camp in Pakistan's Balakot.
His foreword to the book India's Most Fearless by Shiv Aroor and Rahul Singh, "For all the decaying values we tend to be surrounded by, let nobody convince you that true heroes do not exist" has been celebrated by literature enthusiasts.
General Rawat as CDS was the permanent chairman of the Chiefs of Staff Committee supported by the Integrated Defence Staff, Principal Military Advisor to Defence Minister in tri-Services matters and organisations related to cyber and space, a member of the Defence Acquisition Council and Defence Planning Committee as well as a member of the Nuclear Command Authority headed by the Prime Minister.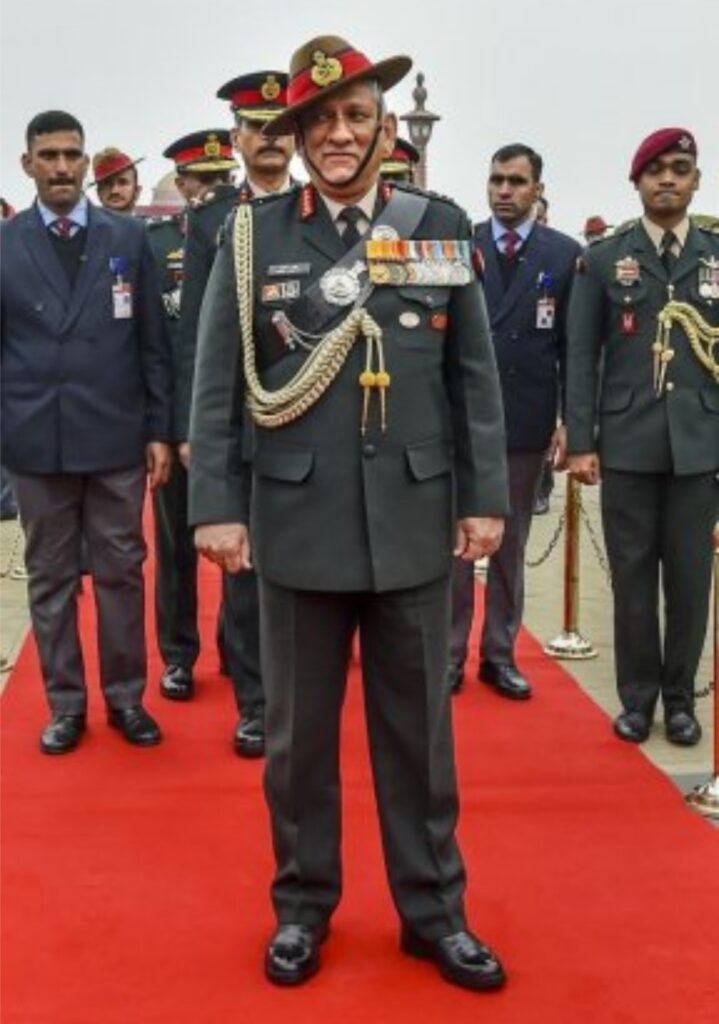 Holding such significant posts of national security importance, his duties were manifold and endless entailing assignment of priority to inter-services in capital proposals based on the anticipated budget; implementing the Two-Year roll-on Annual Acquisition Plans, Five Year- Defence Capital Acquisition Plan and so on. His capability, capacity and distinguished expertise in the Indian army is unmatched, and to find his successor would be a challenging task for the Defence Minister.
Known for his blunt and assertive mannerism while in the uniform, his fellowmen remember him for the respect he showed to juniors. This son of the motherland was fearless and refused to bow his head before politics and vehemently backed or opposed policies which were for the betterment of the nation, be it cross border terrorism or militancy in the J&K region. Gen Bipin Rawat left for his heavenly abode doing his duty, along with his wife and fellow servicemen, the loss of which is unfathomable for the family and the nation.
THE GENERAL WHO CHANGED INDIA'S APPROACH FROM A VELVET GLOVE TO AN IRON FIST IN THE WORLD FORUM, IT IS NOW THE NATION'S RESPONSIBILITY TO KEEP UP HIS LEGACY AND LEARN FROM THE ILLUSTRIOUS LIFE OF THIS WARRIOR.