News
52 Kgs of Cocaine found at Gujarat Port – "Operation Namkeen"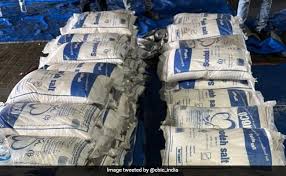 Mundra, Gujarat: Nearly 52 kg of cocaine, esteemed at over Rs 500 crores, was gotten by knowledge authorities on Thursday at Gujarat's Mundra port. The drugs were concealed in parcels containing salt, authorities said.

Under "Operation Namkeen", The Directorate of Revenue Intelligence authorities recuperated Cocaine from a transfer containing around 1,000 packs of normal salt weighing 25,000 kg.

The DRI authorities were following up on knowledge that specific transfers being imported from Iran to Mundra port were probably going to be associated with drugs exchange.

In the wake of drawing tests from thought packs, testing was led by the authorities of Directorate of Forensic Sciences, Gujarat Government. The testing affirmed the presence of cocaine in the recuperated transfer.

The investigations are on to catch the accused who has been a part of this transfer and had supported the import of drug in the country. Up until this point, 52 kg of cocaine has been recuperated, DRI authorities said.